Gargantua
Midnite Youth Theatre. Pink Flamingo Theatre, Northbridge (WA). Directed by Drew Stocker. Feb 13-17, 2013.
GARGANTUA at the Perth Fringe Festival was challenging for both performers and audience. Battling noise pollution from a neighboring venue, the actors were working very hard to be heard. Sightlines were also tricky, with much of the action happening on the floor in a flat venue. It was also extremely hot.
Nevertheless, the young cast from Midnite Youth Theatre battled valiantly to present an energetic interpretation of this strange short play about a giant baby. Quick, simple costume changes and frenetic doubling kept the action flowing quickly. Quirky use of audio-visuals added to the performance.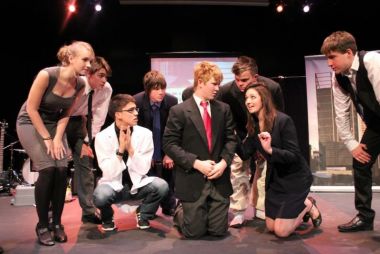 While all of the cast worked well, I particularly enjoyed the strangely sensitive performance of Brayden Schofield as the mother of the overgrown infant and the brave performance of Patrick Wilson in the title role.
The two young ladies in the cast, Rebecca Fowler as news reporter Sally Butters and Tegan Gregory as mayonnaise magnate Regina Buxley, also delivered excellent performances.
This production has recently returned from a US tour and the cast were comfortable but never complacent in their performances. With so much conspiring against the young performers on the night I saw Gargantua, their perseverance and energy was particularly admirable.
Kimberley Shaw.