Gaslight
By Patrick Hamilton. State Theatre Company SA. Directed by Catherine Fitzgerald. Her Majesty's Theatre, Adelaide. 4 – 19 September 2020
From the moment we join the socially distanced queue, we can feel an air of excitement that, for most of us, has been missing for the last six months. Not only is it a night out at the theatre, but at a newly rebuilt one: Her Majesty's Theatre is a splendid reinvention of the original building. The façade remains but nearly everything behind it is new, with an almost-1,500 seat auditorium on three levels (though in these times, only every other seat was used) and it is furnished with rich reds and a forest of curved wood. The seats are comfortable, wide enough to move in them, and with enough legroom you barely need to turn to allow your fellow patrons to find their seats. The huge curtain towers over the stage, ready to reveal what might be the first major production in an Australian theatre in many months. We are all so eager, even the pre-show announcement gets a round of applause.
Gaslight tells the story of a woman unsure of herself, being slowly convinced by her manipulating husband that she is going insane – uncertain of her memory and perception. Originally written in 1938 and presented here in its original Victorian setting, it's a traditional thriller that unwraps slowly through the psychological abuse, sexism and classism exhibited by the husband.
The original Her Majesty's Theatre had a history of music hall entertainment, so the opening song from a woman (Eileen Darley) dressed as a man tips a top hat to that in its musical style, with its satirical lyrics on male behaviour nudging us to the core of the play. With Darley's character revealed to be the usually male Inspector Rough, director Catherine Fitzgerald sets out to remind us that it is often other women that support a victim of abuse.
Bella Manningham is the central character given life by Ksenja Logos, her lavish blue gown and perfectly arranged hair contrasting with the insecure, anxious woman beneath them. Initially, she accepts everything she's told by her husband, Jack (Nathan O'Keefe, channelling Benedict Cumberbatch) – it's only after the arrival of Darley's Inspector Rough that she begins to believe there may be an alternative and more sinister explanation.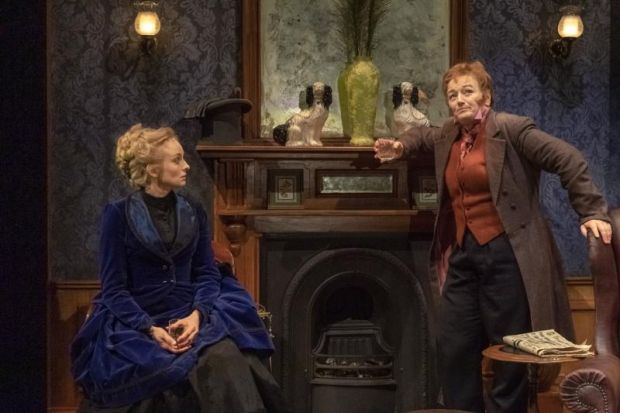 The dark and busy set, designed by Ailsa Paterson, is as Victorian a parlour as it could be, with patterned wallpaper, abundant varnished furniture, and numerous gas lights. The dimming and brightening of these by the cast turn the pages between the action, darkening the tone along with the deep chords of piano and modern drone.
Yet the suspense is neither sufficiently built nor released; and the audience's tension is too often punctured by a laugh. The humour is best when it's subtle – the sullen servant Elizabeth (Ellen Freeman), or the constant putting on and taking off of collars, jackets, overcoats, gloves and hats – but the flirtation with farce digs at the foundations of the message here.
Abuse is not okay – physical might be more visible, but this psychological torture and emotional cruelty are no less damaging. The over-familiar Jack is almost unnerved by the boldness of the young servant Nancy (Katherine Sortini), but even this doesn't tip the balance of power between the master of the house and everyone not of his gender or class. It takes the ever-present strength of Darley's Inspector and the growing confidence of Logos' Bella to take back control and it could be – it should be – a climactic moment. Revenge is taken and justice is served, but there's no triumph. Within this one parlour, we see everyone manipulating someone else; every character pretending to be someone else – to avoid conflict or to create it.
Maybe that's why we aren't cheering. We come to remind ourselves of the joy and inspiration that theatre can bring, yet instead we see a reflection of our reality largely unchanged since this theatre was first built.
We leave happy to have had the shared experience of live performance – just maybe we need to share more joy.
Mark Wickett
Images: Ksenja Logos and Nathan O'Keefe as Mr and Mrs Manningham, & Ksenja Logos and Eileen Darley (Detective Rough).