Gasping
By Ben Elton. Directed by Helen Tonkin. Cast: Richard Cox, Alan Faulkner, Julia Kennedy-Scott, Natalie Rees, Samantha Roylance and Oliver Wenn. The New Theatre (NSW). November 16 – December 10, 2011.
From the prodigious, poison pen of Ben Elton comes this biting satire about the greed and soullessness of the corporate world. Looking back on the irresponsible advertising strategies behind such products as cigarettes and motor vehicles, coupled with the ironic popularity of bottled water - Gasping envisions a world where the quality of the very air we breathe has acquired a newfound mystique and marketability - and a very high price-tag.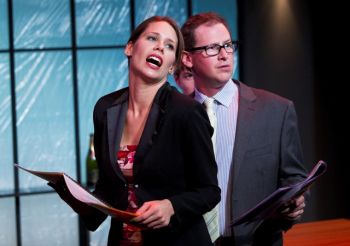 This play may be celebrating its 21st birthday, but its relevance merely gains momentum with the passing of time. The New Theatre has assembled a brilliant ensemble to breathe life into Gasping's relentless stream of one-liners and Elton's signature soapbox rants. While the script is undoubtedly funny, it does bang along on the same note. Thanks to perfectly stylised characterisations this production remains perky and brisk throughout - softening the blow of the audience being bludgeoned by Elton's message.
Rose Cooper
Photographer: Bob Seary.
To keep up with the latest news and reviews at Stage Whispers, click here to like us on Facebook, or follow us on Twitter.