Double Bill: Gentleman's Island and The Telephone
By Joseph Horowitz and Gian Carlo Menotti respectively. Operantics. Independent Theatre, North Sydney. Jan 23 & 24, 2016.
Operantics is a company of young Australian artists whose entrepreneurial skills match their artistic talent. It is run by and for young artists, such as Artistic Directors Katie Miller-Crispe and Tristan Entwhistle, who are dedicated to pursuing careers in opera.
Combining "a passion for music with a flare for storytelling", they are following up their 2015 debut performance of Cosi fan tutte with a diverse program that includes an adaptation of Mansfield Park (Dove 2011), Bellini's La Sonnambula and this 'Double Bill' of two short operas: The Telephone and Gentleman's Island.
The Telephone or L'Amour a Trois by Italian/American composer Gian Carlo Menotti (1911-2007) was first performed in 1947. Its very simple plot involves baritone Ben (Ian Warwick) coming to ask soprano (Samanta Lestavel) to marry him before he catches his train, which leaves in an hour. Unfortunately Lucy keeps interrupting him to answer the telephone. Frustrated, and worried about missing his train, Ben has a bright idea. He leaves, rings Lucy from a public phone and finally gets to 'pop the question'. (This scenario could be just as poignantly set in 2016 with mobile phones!)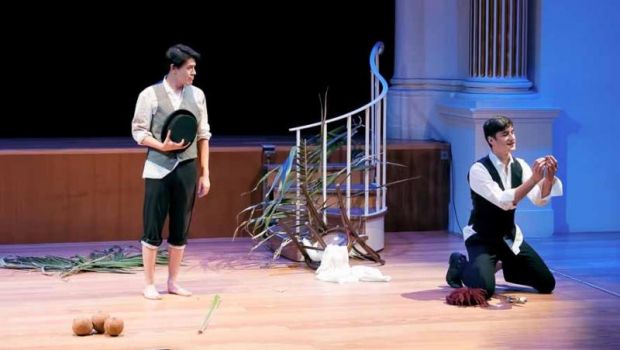 On a simple but effective set on the stage of the charming Independent theatre, Lestavel and Warwick's voices combine beautifully to tell Menotti's little story. Their control and range is impressive – and their acting skills are pretty good too! Though they are on the stage for only 30 minutes, it's easy to see, especially in the ringing notes of the final duet, their commitment to all aspects of their art.
Gentleman's Island was written by British composer Joseph Horovitz and librettist Gordon Snell. Its unlikely scenario is performed with great British restraint and 'stiff upper lip' by tenor Ryan O'Donnell and baritone Hayden Barrington.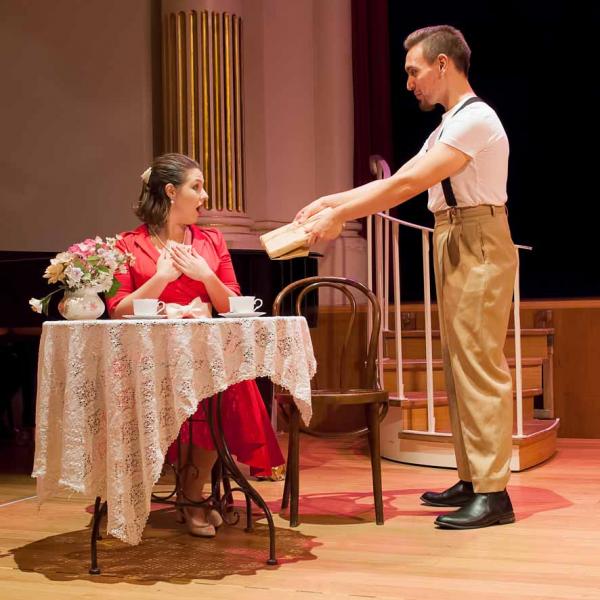 They play two English gentlemen who are sole survivors of a shipwreck, but are unable to speak to each other because they haven't been introduced! Both performers have a strong stage presence … and look remarkably elegant despite their situation! Their stirring voices contrast and combine powerfully as they explain their unusual plight and try, desperately, to find a way to conquer good breeding.
Along with their accompanying pianist Nathaniel Kong, these performers epitomise the wealth of young Australian talent that is waiting enthusiastically in the wings to be recognised and given greater opportunities. There is a great need for more companies such as Operantics to encourage and channel that enthusiasm and talent – and give it a wider audience.
Carol Wimmer
Photographer: John Kilkeary