This Genuine Moment
By Jacob Parker. La Mama & Rock Bottom Productions. Midsumma 2021. La Mama Courthouse. 28 April – 2 May 2021
Here is a 'coming out' drama that is far superior to so many others in its honesty, in the quality of the writing, and in the complexity of the characters. It's also blessed here by the subtlety of Hayden Tonazzi's direction and the performances of Ilai Swindells and Tom Dawson.
On the surface, it is simplicity itself. Two young men, Riley (Tom Dawson) and slightly older Louis (Ilai Swindells) wake up in Riley's bed. They are total strangers to each other. They don't even know each other's names. Their eyes met on the dance floor at a club the night before. They connected – or it felt that way. Was that was their 'genuine moment'. Of course, both were drunk – in Riley's case, very drunk. Now it's morning and they're very hung-over. Did they? Or didn't they?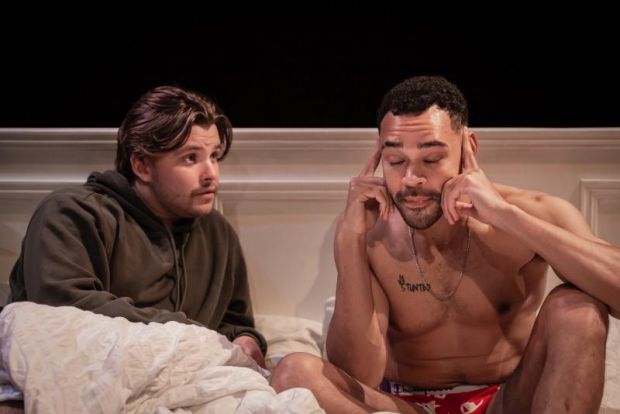 In this awkward situation, Louis seems the more confident, the more articulate, the surer of who he is. Riley is uncertain, apologetic, almost unformed. But each keeps up his act, his front. It's Christmas Eve. Both have things to do that day – Louis's expected at a party, but he's not that excited… Riley's family is coming over and he's anxious…
The logical and expected thing would be for Louis to put his clothes on and leave. But wait. Riley intends to come out to his family that night… He's even written out what he wants to say. Louis can't believe it. On Christmas Eve? Louis doesn't leave… And it's not just because he's intrigued. And Riley wants his advice – of course.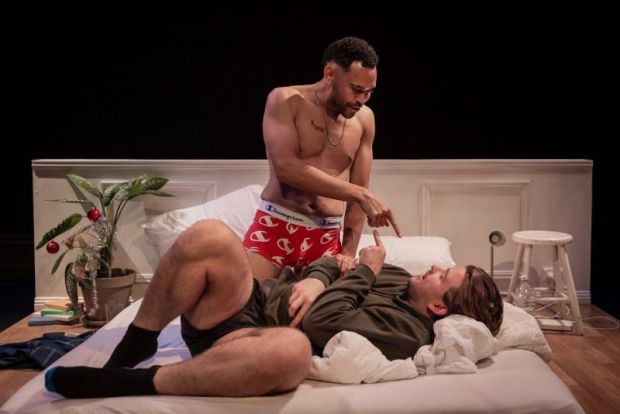 And so, they begin to talk – tentatively, carefully, self-protectively, letting slip the merest slivers of information about themselves. Riley is groping his way towards what he wants to be – or what he thinks he is – and he's scared – and not entirely honest. Louis is the slightly cynical, slightly weary man of the world – a mentor figure for the younger Riley. But gradually - and completely believably - each reveal more and more, finding themselves in that not unfamiliar situation of being able to confess things to a stranger that they have never told anyone before.
Ilai Swindells, the more experienced actor of the pair, has an easy assurance that makes his eventual revelations and vulnerability all the more touching. Tom Dawson, just out of NIDA, has less to say and in its way, the more difficult role. He brings his needy Riley to life as much by suggestion as talk and he chills us in the denouement. Both give us clearly different but credible characters with feeling and skill.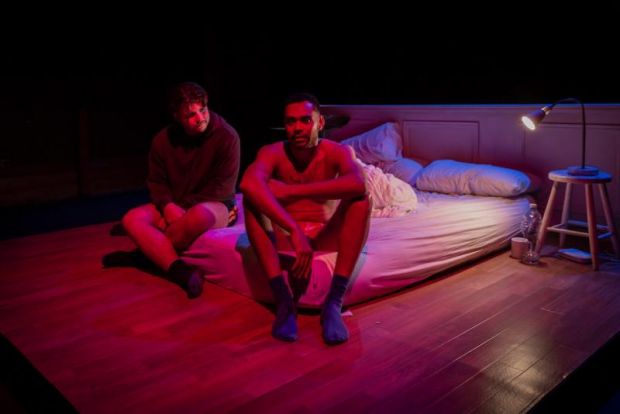 A program note tells us that This Genuine Moment 'foregoes camp tropes and sexual humour for awkward and brutal honesty about how we, as queer people, discover the life we want to live.' For once, a program note is absolutely accurate. Kate Beere's set – a double bed with a narrow space either side, on a platform – is both believable and confining. Director Hayden Tonazzi makes great use of the space, the actors' restless movements reflecting the inner turmoil the characters seek to hide. The separate worlds of each man are conveyed to us via their text messages projected on the theatre wall. (This device was a little confusing on opening night, but we got the idea.)
If, from the above, you think you know where this story goes, maybe think again. Too bad that this small but so strong little play has such a short run.
Michael Brindley
Photographer: Darren Gill