Gilligan's Island: The Musical
Book by Sherwood Schwartz and Lloyd J Schwartz, and original music by Hope Juber and Laurence Juber. Left Bauer Productions. Director: James Cutler. Musical Director: Xavier McGettigan. Choreographer: Kai Mann-Robertson. Chapel Off Chapel (Vic). Feb 15 - Mar 4, 2018
Gilligan's Island was a favourite in the early days of television. A slapstick comedy featuring one-dimensional characters, it was based on a group of survivors of a cruise boat which was blown off course and ship-wrecked on an island.
The cast included the skipper, his inept first mate Gilligan, the millionaire and his wife, the professor, the film star and the dumb bombshell.
It was a hoot!
Though the cast in this stage musical version didn't always look like their original characters, they nailed the mannerisms, and the audience was drawn into their madcap world. As the audience entered they were met by cast members, in character, who helped them find their seats; except Gilligan, who seated a couple on the stage and proceeded to sit in the audience himself.
Of course the show opened and closed with the Gilligan's Island Theme Song and the audience sang along with the reprise. I didn't find the rest of the score memorable.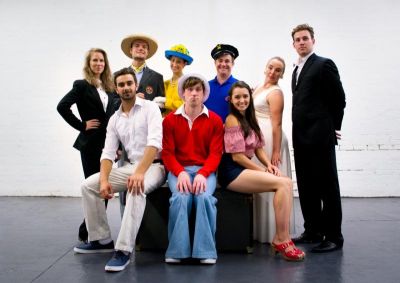 Riley Nottingham was a suitably bumbling Gilligan with a wide-eyed innocence and terrific voice. Molly Fisher was his love interest, Mary Ann, in the tightest of short shorts and singing beautifully. She had the best songs.
Sam Marzden was the frustrated skipper and Joshua Monaghan and Lauren Jimmieson the haughty millionaire couple. Alexia Brinsley was way over the top as the movie star, Ginger, and Kaya Bryne a rather young looking professor.
All of the cast sang and moved well and were utterly convincing. The comic timing was superb.
The sets took minimalist to a whole new level! When Gilligan stepped into quicksand, he appeared with a cardboard cutout of himself covered in mud with him peeking out from behind. When he and the skipper went to bed on their hammocks they were vertical, holding their hammocks behind them. It was very funny.
All of this worked because of the clever lighting. The small band played well, but were a bit loud and some words were lost.
Anyone who enjoyed Gilligan's Island on the box would love this!
Graham Ford