Girl From The North Country
Book by Conor McPherson. Songs by Bob Dylan. Sydney Festival. Theatre Royal, Sydney. Opening Night: January 8, 2022.
1934. The Great Depression. Duluth, Minesotta, northern regional USA.
A bleak boarding house raises its spirits for one last Thanksgiving, as foreclosure and dispossession loom.
Certainly not escapist fare for the times if that's what you're looking for, but for a couple of years now I've been attracted to the idea of a musical theatre score drawn from the songs of Bob Dylan, part of the soundtrack of my youth. It made such sense to me, if done right.
Reflecting on the Australian premiere of this musical, the ambience of Steinbeck's Of Mice and Men springs to mind, while the narrator role of the local doctor has me thinking of both Our Town, and Brechtian alienation.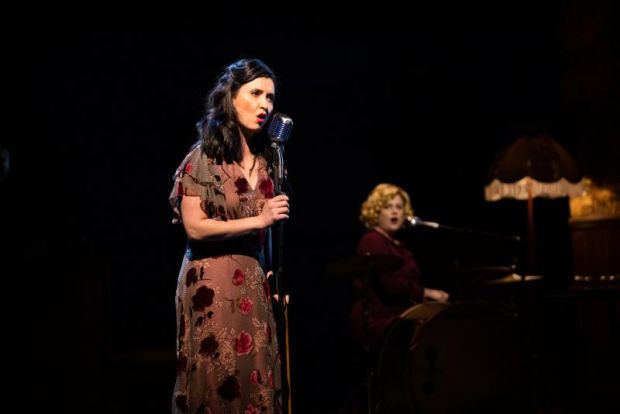 The score of Girl From The North Country is drawn from Bob Dylan's vast catalogue, but isn't simply Dylan's Greatest Hits. Many of the songs are lesser known, while big hits that don't fit the tale aren't just shoe-horned in for the sake of it. That's such a relief when you think of the number of jukebox musicals where we cringe as a cheesy cue introduces a chart-topper, crammed in there from out of nowhere.
Dylan's songs, with simple accompaniment on period instruments by on-stage musicians, generally come across as the intimate reflections of playwright Conor McPherson's characters, though, even in desperate times, occasionally they're a burst of celebration – like the company's "You Ain't Goin' Nowhere" at Thanksgiving.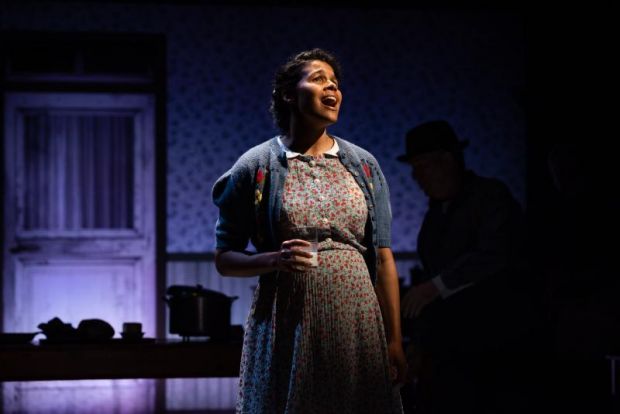 Despite a social calamity beyond their control, the characters who populate this little social microcosm all grasp at hope.
Dr. Walker (Terence Crawford), a family doctor, narrates the story of a disintegrating community.
Nick Laine (Peter Kowitz) struggles to save his boarding house / family home, while his wife, Elizabeth's (Lisa McCune) dementia swings between catatonic and ecstatic, childlike vibrance. Their son Gene (James Smith) dreams of becoming a writer, but his girlfriend Katherine (Elizabeth Hay) is leaving, chasing better prospects.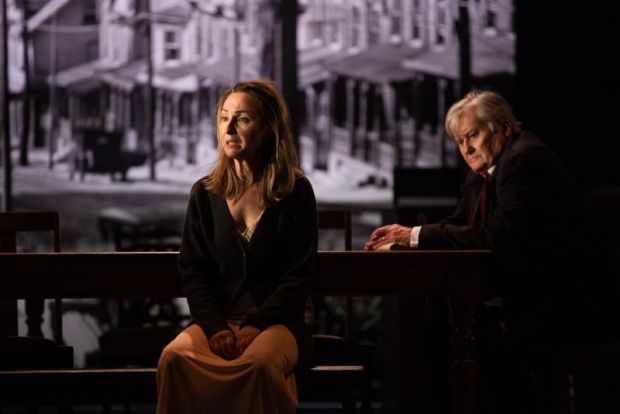 The Laines' adopted black daughter Marianne (Zahra Newman) is pregnant to a mystery father, and Nick tries to marry her off to elderly local businessman, Mr. Perry (Peter Carroll).
Meanwhile, Nick is also having an affair with widowed Mrs. Neilsen (Christina O'Neill), awaiting settlement of her husband's will and potential better times with her.
Other residents include failed businessman Mr. Burke (Greg Stone), his wife (Helen Dallimore), and their son, Elias (Blake Ericson), a charlatan preacher / bible salesman, Reverend Marlowe (Grant Piro), and boxer Joe Scott (Callum Francis).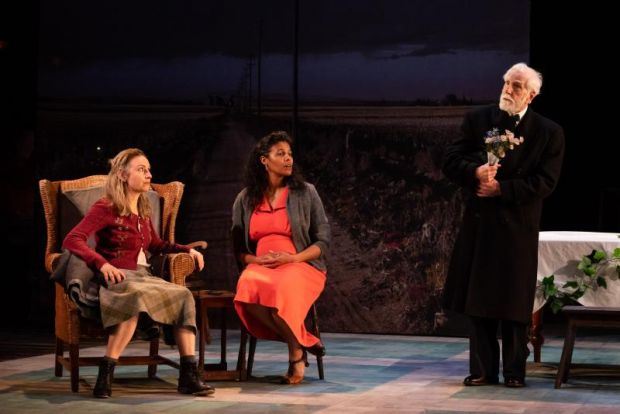 But it's been a long hard battle, and for some this is clearly the losing end, with only very small windows of optimism.
The lighting, setting and atmospherics enhance the darkness and evoke both period and poverty, splendidly designed by Mark Henderson (Lighting) and Rae Smith (Scenic and Costume Design).
Conor McPherson's scenes, sometimes moving, sometimes funny, blended with Bob Dylan's songs, often feel like episodic snapshots of these people, their relationships and situations, with the songs sometimes providing depth where McPherson's characterisations themselves err on the sketchy side.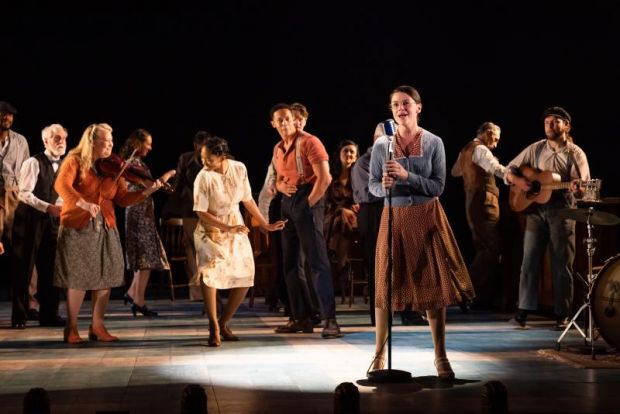 The Australian production is blessed with fabulous individual singing performances, as you can guess from the cast that I've already mentioned, supported by a marvelous, small ensemble. Personal highlights for me included Callum Francis's compelling rendition of "Hurricane', Zahra Newman's intimately personal "Tight Connection to My Heart", Blake Erickson's fabulous "Duquesne Whistle", and Lisa McCune singing "Forever Young" and leading the company in "Like a Rolling Stone".
Seen through the prism of our last two years - with job losses, business failures and illness - there's much to identify and empathise with in this musical (or is it a play with music), a far cry, from the escapist musicals of the actual 1930s.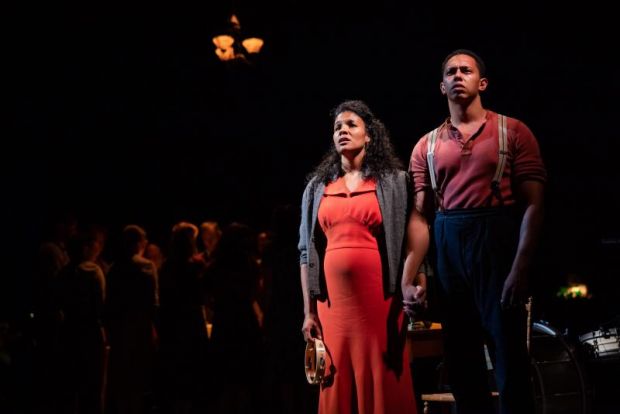 And it's a great chance to celebrate the genius and universality of Bob Dylan's songs in a brand new context.
Neil Litchfield
Photographer: Daniel Boud