Girl in Tan Boots
By Tahli Corin. SBW Stables Theatre. Collide and Griffin Independent. April 1 – 20, 2013
Hannah hasn't turned up at her parents' house as usual for a meal on Sunday. She isn't taking calls. She hasn't been seen since Friday evening. Her mother (Odile Leclezio) reports her missing and Detective Carapetis (Linden Wilkinson) begins investigating.
At Hannah's St Leonard's flat, where she has been living for ten years, all is untouched, including her very hungry cat. It seems like just another Missing Persons case … but it isn't. Carapetis' investigation uncovers a complicated situation that becomes almost a modern fable based on interfering friends, social media and diminishing self-esteem.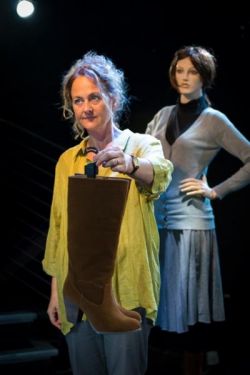 Plawright Tahli Corin continues her award winning record with this relatively fast moving and complex play. She has taken as her stimulus the 'contact' page in a Melbourne commuter magazine, where travellers send coded messages to someone they have seen on the train or at a station, for instance …
PINS AND NEEDLES: To the girl on the Lilydale train on Thursday with the shoe box and kitting needles, I never thought knitting could be so hot. Stunned, Melbourne
As Carapetis widens her investigation, she finds that Hannah's work friends, played by Madeleine Jones (Katie), Zindzi Okenyo (Mandy) and Francesca Savige (Lucy) had put a fake message aimed at Hannah in the paper ('Girl in Tan Boots'), which Hannah obviously read. Another four messages ensued. Social media was involved. Other women in tan boots read the messages. One of these, Antonietta, played by Sara Zwangobani, complicated things further. And it all got out of hand.
Any more and I'll spoil the very carefully tiered and layered plot that Corin has woven. Suffice to say, there are intricate twists and an unexpected ending. Director Susanna Dowling has managed all this creatively, on a set relatively effectively contrived for the small Griffin stage.
Corin is adept at creating characters that ring true through realistic but very economic dialogue. She is also able to intersperse her social comment with dry humour, which is very appealing and which Dowling and her cast approach with impeccable timing.
The character of Carapetis breaks through the fourth wall from the first moments of the play. She needs to share this story and the audience is her sounding board. Linden Wilkinson makes the breaks from these confidences to the actual interviews with consummate ease. She is an experienced performer and seems in her element with this part. She is on stage for the full 80 minutes of the production, and her use of tiny pauses, carefully developed mannerisms, increasing pace, consternation, confusion and concern set the pace of the play.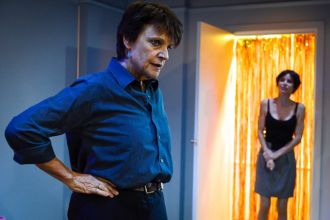 There is little one could fault in this production. Even though the set presents some sight line problems and there are some moments when the actors are out of light, the direction has followed the pace of the writing. Scenes move swiftly, especially those involving Hannah's work mates. They are contemporary misses. They talk fast, move fast, are convinced of their worth, even if they do seem to "protest too much"!
The tempo changes slightly in scenes between Carapetis and Hannah's mother, and the interviews with Antonietta, but the pace remains – and builds right up to the surprising last moments.
This is a very carefully conceived and well-written play – and the direction has done it proud!
Carol Wimmer
Images: Zindzi Okenyo, Odile Le Clezio & Linden Wilkinson and Francesca Savige. Photographer: Patrick Boland