Giselle
Queensland Ballet. Staged by Ai-Gul Gaisina. Choreography by Marius Petipa. HOTA Gold Coast. 12th-14th November, 2020
Queensland Ballet could be forgiven if they were bitter and twisted over the whole of their 60th anniversary programme being cancelled because of Covid 19. Instead, they managed to turn a tragedy into a triumph - first with the wonderfully exciting "sixty dancers- sixty stories" online; then a live performance adapted from those filmed performances. Now, to end the year, they have pulled Giselle out of their repertoire for a short season under the stars and beside the lake on the Parklands outdoor stage. It's a magical venue worthy of a fine, and exponentially impressive, ballet company.
It is hard to quantify exactly how Artistic Director Li Cunxin has changed this company, and how much of their growth is due to experience and natural progression, but in the last five years the company's commitment to excellence, and its discipline and passion, have seen it climb the ranks of acclaimed ballet companies both here and internationally.
Giselle is a stalwart of every ballet company, and this production is charming. But Marius Petipa's choreography, some 150 years old, is hardly a stretch for the dancers and does seem overly simplistic in this day and age. Nevertheless, Ai-gul Gaisina's staging, the sets and costumes, and some special performances, made this a special event for the family audience, with many sub-teen ballerinas demonstrating their pirouettes during the interval.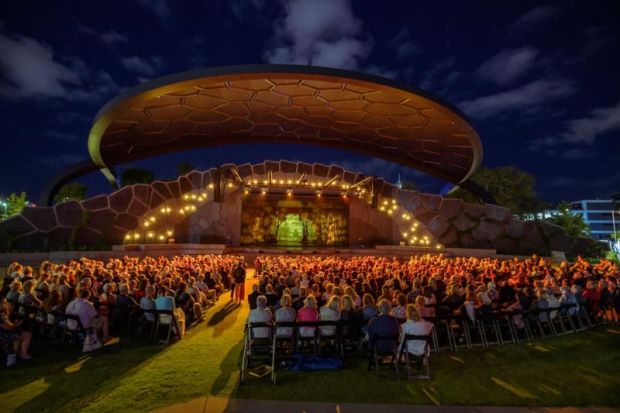 Though the cast is on rotation for each performance, I'm very glad to have seen Neneka Yoshida as Giselle. She is perfectly cast, tiny and with an air of fragility that is instantly endearing and belies the strength of her dancing; beautiful extension and turn-out and a feather-like quality in her lifts. Her "mad" scene (which so often ballerinas turn into a "slightly pissed off" scene) was filled with confusion, disbelief, and heart-breaking vulnerability. She touched the audience emotionally, not an easy thing to do.
Joel Woellner, as Albrecht, gave us the strength and virility so important to a male dancer. His partnering in the Act Two pas de deux was impressive and he has great command of the stage.
D'Arcy Brazier imbued the jealous Hilarion with the right degree of melodrama and made the character's emotional intent clear with every gesture. In fact, one of the additional strengths of this production is the acting, and overall attention to narrative, so often neglected by other companies. Jeanette Mulligan was impressive as Giselle's mother, Berthe, a character role that can make or break the audience's connection to the story, and Dylan Lackey brought humour and distinction to the role of Wilfred, Albrecht's Squire – a somewhat nondescript role which is too often easily forgotten. Laura Toser showed real authority and command as Myrtha, Queen of the Willis, although the entire second act continues to feel as though it belongs in another ballet. (I have never seen a production in which both acts mesh cohesively as part of the same narrative)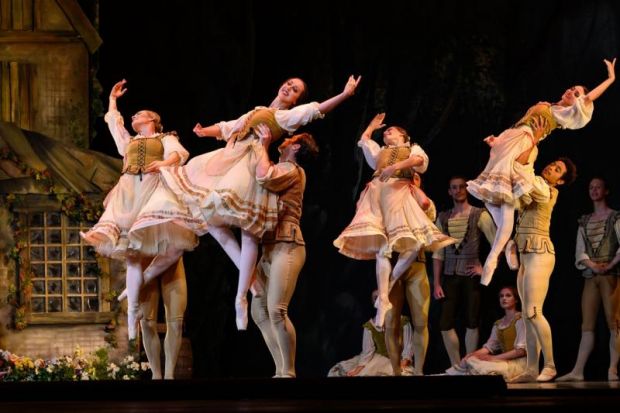 A special bravo to the corps de ballet. What this company has in spades is precision. When they dance in unison, it truly is unison (as it should be) with every arm, every hand, every leg in the same arc. This requires great discipline and awareness of all the dancers around you; and it's something our national company struggles with, particularly with the male dancers.
The Pas de Huit was especially impressive, and some of the best dancing of the night came from Serena Green and Alexander Idaszak; Lou Spichtig and Liam Geck; Sophie Zoricic and David Power and Chiara Gonzalez and Patricio Revé – the names alone show the wonderfully diverse ethnicity of the company.
What Giselle lacks in relevance it more than makes up for in excellence from Queensland Ballet. Their cancelled 2020 season will now be 2021 – and I can't wait for such gems as Dracula, and Bespoke, to see this young company stretched to its artistic limits and beyond.
Coral Drouyn