Glimpse
Devised and performed by Michala Banas, Tom Barton, Keith Brockett, Mark Diaco, Marg Downey, Dan Hamill, Linc Hasler and Laura Maitland. Kin Collective (VIC) Fortyfivedownstairs. Directed by Laura Maitland with Associate Director Noni Hazlehurst. November 14 – December 2, 2012
Glimpse has morphed out of what actors love to do; that is, meet together, improvise, and wait for art to be born.
Kin Collective, a new and independent theatre company, boasting an eminent ensemble of Australian actors and collaborators, originated out of the idea of coming together to try things out; and what has resulted is an absorbing production that is mature and intelligent, and at times truly heartbreaking.
Glimpse is true to its title. It suggests that difficult human behaviour can stem from pain and damage, and perhaps we would interact differently if given a glimpse into another's life; into what lies hidden behind the masks and public image. It explores the fundamental human desire to connect across boundaries, yet highlights the difficulties in doing so. Profound may be the themes, but familiar scenarios allow the audience to relate and find humour in the play's awkward moments.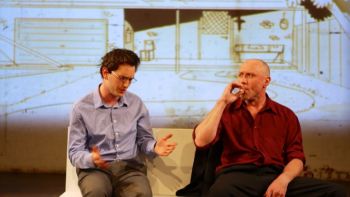 Glimpse is comprised of a series of narratives and vignettes involving up to twelve characters. A few examples are: a brother and sister heatedly arguing around their mother's impending death; a teenage runaway with the naïve ambition of following in the footsteps of Eminem; a married middle-age woman tempted by romantic attention. However, these situations are only the surface. As characters cross paths within shifting scenes they fumble over their attempts to communicate, or silence reveals a lot is at stake. A homeless man who holds no societal "dos and don'ts", draws attention to this complexity - he tells it like it is; how to treat him and what he wants, proving confronting at times for the characters and audience.
If theatre is meant to provoke thought and ideally bring about change, then Glimpse is a gentle reminder of the betterment in withholding judgement and the consequences of not communicating. It is bestowed with exemplary acting and the scenes are set by the exceptional projected art of Jason Chatfield.
Kin Collective is a new and welcome voice on the independent theatre scene.
Karen Coombs