Glory Dazed
By Cat Jones. Directed by Greg Carroll. Red Stitch Actors Theatre (Vic). July 23rd – August 23rd, 2014
With yet another triumph from Red Stitch, Director Greg Carroll gives us a totally satisfying realisation of Cat Jones' powerful short play about the emotional "Casualties of War" – this time the Afghanistan conflict. He has an exceptional cast and creative crew to work with, but it's Carroll who seamlessly pulls it all together.
In this 'real-time' four hander (set in a pub in the depressing Midlands city of Doncaster) the story is simple, but the stakes are high and are continually being raised. We (the audience) become captives of the violent and tragic Ray, who has locked everyone in the pub in the hope of persuading his ex-wife Carla to come back to him.
As Ray, an ex soldier who has bashed an Asian man for changing the TV channel during news of war casualties, Andre de Vanny gives a staggering performance. At first evaluation Ray is a dolt and a thug, with a modicum of charm that makes him attractive to women. But de Vanny has found in him so many layers that it's too easy to judge Ray on any simplistic level. Rather, our opinion is constantly changing as more of him is revealed. It's a frightening and heartbreaking portrayal of a man left dazed and bewildered, his humanity stripped from him by the relentless violence applauded as heroism. The pain is palpable, the eyes are red from crying – but only in private – real men don't cry, do they? (Even his ex-wife tells him that when he starts to break…."don't cry.") The explosive violence is confronting and terrifying, and yet we weep for a man so damaged he cannot find his way back to his wife and the children he adores. His last act of sacrifice, setting his wife and children free, shows the noble heart that circumstance has all but destroyed; stunning acting of the highest order.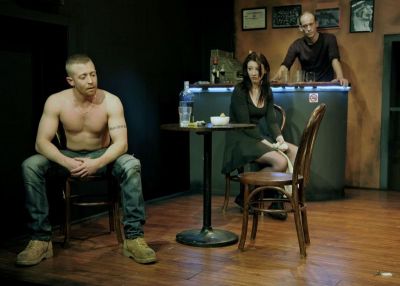 Emily Goddard is compelling as ex wife Carla, whom Ray has previously bashed in uncontrollable rage. She never gives any indication that Carla is, or has been, a victim. Rather, it's the strength at the heart of an ordinary woman that she explores; the strength required to close the door on a man she loves for the protection of her children. Her conviction makes the poignancy of the realisation that she still loves this "wounded lion" all the more powerful.
National Theatre graduate Jonathan Peck is impressive as pub manager Simon, a seemingly weak character but with a Machiavellian twist. Simon is clearly Grammar School, where poor Ray probably flunked technical school. He knows when to push Ray's buttons, how to destroy him, how to take his wife…and ultimately how to manipulate all those around him. It's a great debut for Peck, who is this year's graduate member of the Red Stitch ensemble.
Completing the cast is recently graduated Laura Jane Turner. This is her professional stage debut, and what a debut it is. As the slightly "thick" 17-year-old barmaid she is totally convincing and has that much lauded ability of listening to everything that's going on around her, 'Re-Acting' in the best definition of the word. She is definitely an actor to look for in the future.
As usual, resident Set Designer Peter Mumford has worked miracles in the tiny performance space. Director Carroll wanted a raised stage of 60 cms; so Mumford has made it a square island; a symbolic boxing ring where life deals its knock out punches. His use of perspective in the upstage area, to create the illusion of a large pub beyond, is a mark of his excellence.
There are several relatively new independent companies who will one day (perhaps quite soon) challenge Red Stitch as the most exciting and excellent theatre company in the state. But for now, Red Stitch is a clear leader in Melbourne's theatre scene, and proves its position with every new production. Fuelled by Cat Jones exquisitely layered text, this is, for me, their finest offering of 2014.
Coral Drouyn
Images: Emily Goddard as Carla and Andre de Vanny as Yay
 & (L-R) Andre de Vanny as Ray, Laura Jane Turner as Leeane and Jonathan Peck as Simon. Photograher: Jodie Hutchinson.