God's Ear
By Jenny Schwartz. Seymour Centre and Pursued by a Bear. The Reginald, Seymour Centre (NSW). November 12 – December 3, 2011.
Jenny Schwartz's play God's Ear deals with the pain, distress and emptiness of that is felt by a parent in the wake of the loss of a child. Conversations between partners, friends and relatives become stilted, repetitive and almost meaningless until they descend into an absurdist tapestry of clichés.
This is a relatively banal story of ordinary people having to piece their lives back together and carry on despite dealing with extraordinary pain and disconnection. Banal is perfect in this case because it is almost a blank canvas, which makes it easier for the audience to imagine their own reactions in a similar predicament.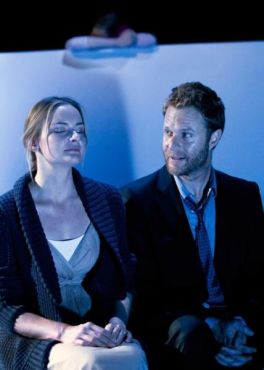 This is an interesting and bold choice for the season final of the Reginald program at The Seymour Centre. It is a sophisticated script which at times is just a little too clever by half. But the overall production standard is very high. The set, cast and direction all work to support what is very challenging dialogue. Nick Curnow as dialect coach has done an absolutely superb job - you almost believe the cast is American ,which is a massive achievement.
This cast is clear in their choices, strong in their intentions and captivating in their performances. Natasha Beaumont's depiction of Meg a woman who loses her son, is the perfect mix of guilt, sadness and the strength of will needed to carry on for the sake of her other child a young daughter. Victoria Greiner as Meg's young daughter Lanie epitomises and encapsulates a child like innocence and naiveté with the simple wisdom of a child which is so often hard for adult actors to actually capture.
This show is not for the fainthearted but it's well worth the effort if you are willing to go there.
Whitney Fitzsimmons
To keep up with the latest news and reviews at Stage Whispers, click here to like us on Facebook, or follow us on Twitter.