God of Carnage
By Yasmina Reza. The Mount Players (Vic). Mountview Theatre, Macedon. Director: Natasha Boyd. Stage, Set and Costume Design: Alison Dudon. August 26 – September 17, 2011.
On a beautifully designed and constructed set, God of Carnage is a wild romp that is well handled in its first Victorian amateur production by Mount Players.
This is a brave choice for a theatre company that's houses are dependent on feel good shows with huge casts. Enthusiastically produced and directed, and extremely well advertised, this cosmopolitan work, that is soon to be a film, is well worth seeing. It is a refreshing change to see very recent contemporary drama produced by one of Macedon Ranges' most highly regarded theatre companies, particularly as the fare offered by the Council is becoming less edgy and highbrow and more popularly entertaining.
God of Carnage is an indictment on the self-satisfied middle classes. This Australian adaptation of a French play is seemingly positioned somewhere around, or between, Glen Iris, East Malvern and Prahran in a moneyed world where individuals have a callous disregard for others, insults and injuries are measured in dollar value, and intimidating body language is the norm.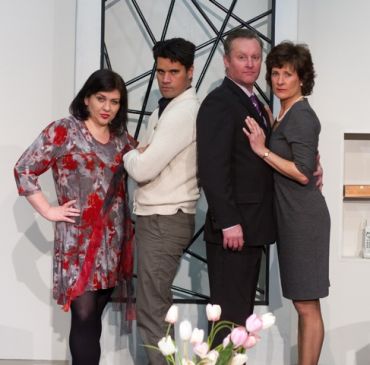 As the sometimes 'over the top' controlling coffee table art book obsessed Veronica, Pauline Snell fits the bill. All characters utter fabulously funny lines. "My wife's passed me off as a leftie but I am fundamentally uncouth," is a highly amusing line declaimed by Michael, Veronica's husband - with a flagrant lift of his shirt. He is a wholesaler or perhaps retailer of white goods, possibly living a little out of his league. Michael Fenemore convincingly renders this un-likable man, capable of treating his daughter's hamster with cruel disdain, as a younger husband.
Karen Hunt's Annette is wholly convincing as the eager to please and long suffering wife of a workaholic lawyer Alan (Darren Gregor). "You can't control the things that control you," Annette says at one point and this is particularly true of her own body and of her husband, whose mobile phone use renders him a vulgar guest.
With the assistance of alcohol much veneer is dropped and one is reminded of Edward Albee's Who's Afraid of Virginia Woolf.
These are people we can feel disdain for and observe vicariously to re-inform ourselves of appropriate values and changing social etiquette. People we don't want to be – people we hope we are not becoming – people we can laugh at.
Well worth seeing.
Suzanne Sandow
To keep up with the latest news and reviews at Stage Whispers, click here to like us on Facebook, or follow us on Twitter.