The Gods of Strangers
By Elena Carapetis. State Theatre Company of South Australia. Dunstan Playhouse. Nov 14 – Dec 2, 2018.
It is always an exciting time when a new Australian play and playwright arrive on the scene and Elena Carapetis' The Gods of Strangers has much to recommend it. In State Theatre Company of South Australia's world premiere production of this play Carapetis tells the stories she grew up with, setting them in the difficult and to new immigrants, strange, country around Port Pirie.
Carapetis fills her play with believable and engaging characters who carry us along in a torrent of English, Greek and Italian (subtitles are provided).
The acting overall is excellent. Assunta, played by Dina Panozzo, is fabulous - a gutsy, funny, tough and memorable character who, for me, stole the show. Renato Musolino touches hearts with his plea for forgiveness and Elizabeth Hay delivers perfectly some of the funniest lines in the play. These actors are supported well by Eugenia Fragos as Anna, Deborah Galanos as Vasiliki and Philippos Ziakas.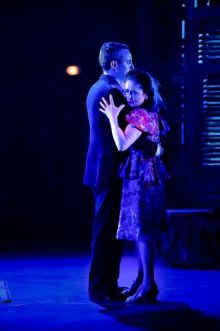 At times the play delighted me, at times it made me laugh out loud and sometimes it touched me. And, I have to say, at times it puzzled me, because it swerves off in different directions as if Carapetis wasn't quite sure what she really wanted to say (because she wanted to say it all).
I did struggle with the use of narration throughout the play. The language, while often evocative and sometimes poetic, was, I thought, unnecessary. The play would have been stronger, more intense and dramatic without it. Why tell us something and then act it out? Just show us; involve us through the action and story of the characters. And please cut the epilogue.
The set, designed by Victoria Lamb, is lovely but unnecessarily complicated for what is at heart and at its best a domestic drama. The constant shifting of scenery is basically unnecessary.
The best parts of the play are scenes such as the conversation between Assunta and Vasiliki, when they are drinking and playing a game, or Assunta's interrogation of Vito, which is totally engaging and had the audience in stitches when I attended. These scenes are drama at its best, relying totally on the interactions of the characters, the writing and no props apart from a table and a couple of chairs.
Hilary Kleinig's music underscores the action and works beautifully, creating an atmosphere and sense of place; particularly, in parts, a yearning for the original homeland common to the migrants.
Congratulations to all involved, and also for supporting a local playwright and new Australian writing.
It is exciting to witness a world premiere and I look forward to seeing more of Carapetis' work in the future.
Sally Putnam
Photographer: Chris Herzfeld