The Gondoliers
By Gilbert and Sullivan. Gilbert and Sullivan Opera Sydney. Smith Auditorium Lyric Theatre, Shore School, North Sydney. September 25 – October 3, 2015.
Joyously setting the mood under Rod Mounjed's baton, a full pit orchestra delights the audience with as good a rendition of Sullivan's overture to The Gondoliers as I've ever heard, before the curtain rises on a gorgeous Venetian backdrop complete with the city's trademark canals and the Bridge of Sighs.
Within moments a breath of fresh air and sweet vocals fills the stage as a a vibrant ensemble of 'contadine', looking fresh and fetching decked out in attractive peasant dresses and flowers bursts onto the scene. Soon the male ensemble of gondoliers arrive in good boisterous form, even if their numbers fall short of achieving the balanced 'two dozen we and ye are four and twenty' promised in the lyric , leaving some very pretty contadine in need of a good dating service. The spirited opening choruses get the show off to a bright, bubbly start.
An attractively balanced quartette of young lovers emerges. Spencer Darby's Marco has the right touch of swagger and ego, Tristan Entwistle is a carefree, boyish Giuseppe, Marisa Panzarin sparkles as a bright, vivacious Gianetta, nicely contrast with Anna Louise Finlayson's more romantically intense Tessa.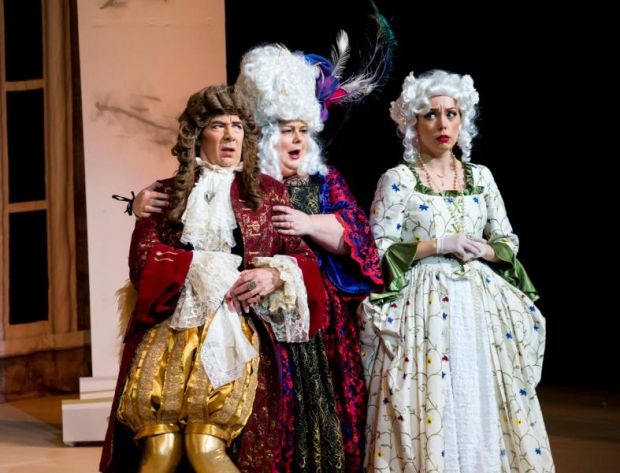 Traditional in spirit, with the occasional topical bits (some landing great laughs, others not), director Gordon Costello's production doesn't try anything new or startling, clearly going along with the old adage, 'if it ain't broke, why fix it'.
Enter the Duke of Plaza Toro 'and Suite'. For anyone not in the know, the flimsy plot of The Gondoliers revolves around the conceit that either Marco or Guiseppe (no-one knows which), is in fact the son of the late King of Barataria, betrothed in infancy to the Duke's daughter Casilda, leading to all sorts of Gilbertian topsyturveydom.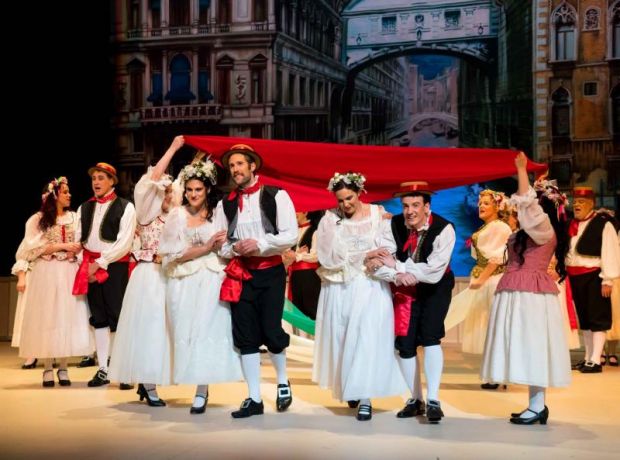 As the Duke, Dean Sinclair brings a somewhat fruity, affected foppishness, as well as the requisite impeccable diction, to the patter role. It works equally well in this role as it did in his highly entertaining Sir Joseph Porter for this company in 2014. At his side, Catherine Bulfin is an imposing, statuesque Duchess, her characterisation accentuated by great costuming. Highlight of the 'Suite', though, and perhaps the whole show, is Stephanie Jennifer Poropat as their daughter Casilda. How often do we say of a young performer that they are one to watch for? Well, add to that listen for in this case. This young soprano blends lovely acting, poise and comic skills with a to-die-for voice, which is versatile across a wide range of vocal styles if the program notes are to be believed.
Opposite her, Michael Bond sings the role of Luiz capably, though his stagecraft lacks the polish of the performers he works with directly.
Anthony Mason rounds out the principal cast impressively, an authoritative, vaguely menacing Don Alhambra with a strong baritone voice.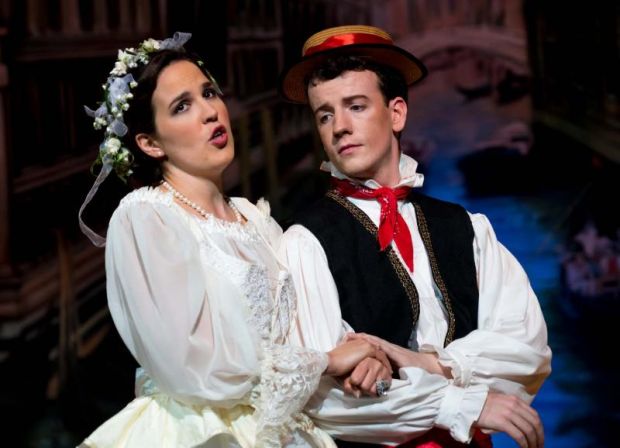 Even in the many minor roles, the voices in this production are strong, the diction and projection good and the performances enthusiastic and ingratiating. This is an appealing, well-balanced cast.
A striking palatial cut cloth of floor to ceiling French windows and columns almost outdoes the attractiveness of the first act's Venetian set. In fact, for mine the male ensemble's courtier outfits and wigs in the second act are the only visual disappointment – or are these gondoliers intended to look somewhat ill-at-ease in their new livery. The ladies more than make up for this though, even more entrancing in their gipsy outfits than their earlier peasant dresses.
Generally Elizabeth Lorencev 's choreography provides effective blocking and groupings suitable for the non-dancers in her cast, and nice featured moments for the better dancers, though in whole ensemble movement there are moments which are touch out of synch, or a little congested. I suspect the company's short bump-in period after touring to smaller venues may have contributed.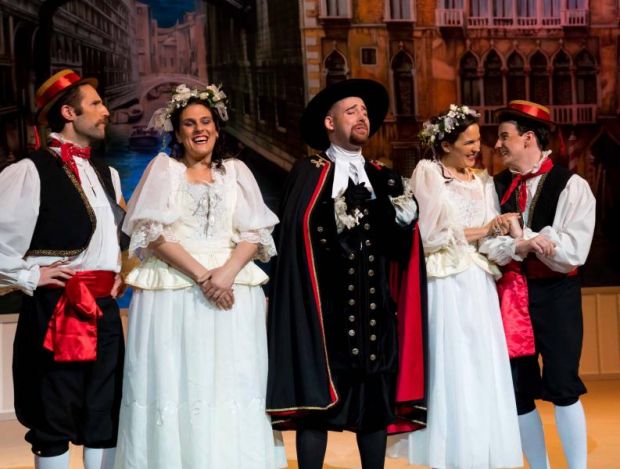 Shore School's splendid Lyric Theatre has distinct advantages for everyone - a great stage and facilities for cast, crew and creatives, an orchestra pit professional theatres might well envy, and comfortable seating and sightlines for the audience. Few venues on the community theatre circuit provide a better all-round experience.
All up, Gilbert and Sullivan Opera Sydney's The Gondoliers provides a joyful treat for Savoy Opera fans like myself.
Neil Litchfield
Photographer: Ray Wing Lun