Grace
By Craig Wright. Minola Theatre. Ron Hurley Theatre, Brisbane – 1 to 4 August, 2019
Grace is about the 'grace of God' – the undeserved help that God offers those with blind belief. It is about characters with spiritual need and a faith in fate that seeks signs to help steer their life's direction. Butwhat happens when that gets skewed – the faithful lose faith and the cynical find hope? Find out with Grace's trope mix: Steve the pushy evangelical Christian; Sara the devoted wife, healer and would-be mother; Sam the overthinking NASA scientist, crippled physically and emotionally and in need of healing; and Karl the building pest controller. Set in one small apartment that doubles as two rooms, the stage design reinforces the boxed-in nature of the characters' lives, and the tension of being trapped with your thoughts and beliefs.
Grace is an inkblot test, smeared with Sam Shepard darkness that ultimately seeps across the story. There's also a nice sideline about our faith in technology – we put our lives on 'the cloud' trusting that it will always be there. And while God may have the grace, the devil is in the detail: Wright should be able to package up both. He is no stranger to religion – having studied for five years for a masters in divinity and worked as an associate pastor. And he is adept at examining the evils of cash – having worked on 'Dirty Sexy Money' and 'Greenleaf' for US TV. Grace is a nice light-touch one-act play that sparks both themes but doesn't quite ignite. This feels symptomatic of the TV material that Wright has been embroiled in – 'Lost', 'Six Feet Under' – which promise so much and deliver so middling.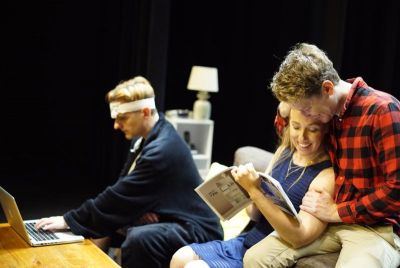 However, this production of Grace is worth seeing for the excellent cast alone. Ellen Hardisty plays Sara with easy elegance, empathy and kindness. James Elliott's obsessive Steve is Buscemi-esque and never falters in holding our attention. As Sam, Daren King captures the conflicting harshness and fragility of a life challenged. Peter Condon may be a tad young to play the holocaust survivor, Karl – the bug exterminator who, like your favourite taxi driver, has strong opinions and several stories to back them up. This is a strange character whose function in the scenario is confusing – other than that even the most cynical can turn on a dime. But Condon provides gentle comic relief.
Directors Kat Dekker and Bianca Butler Reynolds show that their actors are quite capable of playing in a style befitting the author's credits and the quirky edginess that is de rigueur for today's US dramas. The Minola team has found a bright cast sharp enough to bring a slice of edgy off-Broadway to the Brisbane burbs. Young audiences will appreciate the filmic style and TV influences. For example, the opening sequence is played in rewind mode, and later the characters get stuck in a freeze frame of repeated phrases and actions. The production also features an excellent soundtrack – from Elvis Presley's 'Saved' to Rag'n'Bone Man's 'Human' – that underlines the play's theme.
Minola Theatre named their creative collective for directors Kat and Bianca after the two sisters – Kate and Bianca Minola – in The Taming of the Shrew. This self-funded, indie cooperative only produce a few shows each year – and this is only their second production ever. So get in on the ground floor with Grace and follow where Minola leads in the future.
Beth Keehn
Photographer: Imogen Frangou