Grease
By Jim Jacobs and Warren Casey. Adelaide Youth Theatre. The Arts Theatre, Adelaide. 15-18 October, 2020
Grease – the musical began life in a Chicago night-club in 1971. The title comes from an American sub-culture group known as 'the greasers'. Grease moved to Broadway in 1972 and the international smash hit movie version was released in 1978. Subsequently, it was revived in 1994 and 2007, combining the original and movie versions. Grease is now a 'classic' pop musical, and as evident in this delightful Adelaide Youth Theatre production, is as wonderful and as subversive as it ever was.
Subversive? That was part of its original intent – satirizing 1950s conservatism and vibrant youth scene, exemplified by the numerous references to 1950s 'teenage star' Sandra Dee, as well the character of Sandy in the musical. Sandy (Olivia Giameos) is the newcomer to the local Rydell High School. Over the previous summer holidays Sandy has enjoyed a wonderful teenage romance with Danny Zucco (Nathan Stafford). What neither of them expected was to find each other again at Rydell High School. The relationship between Sandy and Danny is the basic plot-line of the musical – 'boy-gets-girl, boy-loses-girl, boy-gets-girl'; but this conventional plot-line is subverted at the end - 'girl-gets-boy' with Sandy transforming herself into his sexual fantasy – Power to the Girls and Pow! to the Guys.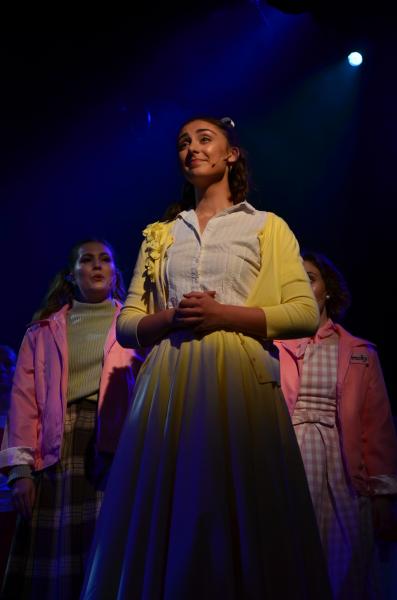 Traditionally, productions of Grease highlight the iconic 1950s pop references touched on in the story and music. This production, however, has deliberately stripped away all the 'camp' (or most of it anyway) and has revealed something new and a bit challenging. All the fun and sheer joy of the various characters and songs are still wonderfully there, but the book scenes are now rather challenging and subversive to these modern times. Here we have a group of sexually aware young girls who indulge in drinking and smoking cigarettes, and are hostile to any others who do not follow their club lifestyle. The boys are all testosterone, who have only have really only one thing in mind – sex with the girls. These scenes are a bit uncomfortable to watch at times, they seem so out of place today, nonetheless, the issues of 'peer pressure' and 'teenage pregnancy' are just as important and relevant.
The best fun, and where this production is truly thrilling, is in the many musical numbers. Highlights include – 'Those Magic Changes' (which fantasy-like links to the main theme of transformation) beautifully sung by Cobain Bradley as Doodie, 'Mooning' with Deon Martino-Williams as Roger and Hannah Vandervlag as Jan, 'Beauty School Drop-Out' with Jake Hipkiss as Teen Angel, and 'We Go Together' with the entire ensemble.
It is the ensemble nature of Grease that makes it such a terrific musical to be performed by youth groups such as the excellent Adelaide Youth Theatre, but that ensemble nature of Grease makes it difficult to single out individuals in this production. Nonetheless, Nathan Stafford's confident, precise, engaging, and dynamic Danny Zucco was a 'triple threat' triumph in acting, singing, and dancing.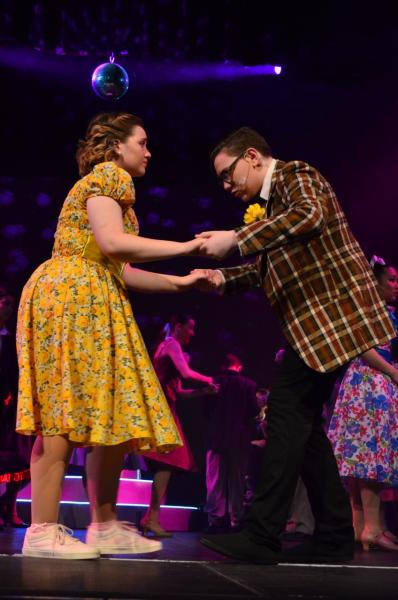 Full credit to Michelle Davy (Director), Thomas Brodie Phillips (Choreographer) and Serena Martino-Williams (Musical Director) for so successfully leading this vibrant youth ensemble and delivering a truly fun (and sometimes surprisingly challenging) night at the theatre.
Tony Knight
Photographer: Shalani Wood.