The Great Australian Play
By Kim Ho. Directed by Saro Lusty-Cavallari. Theatre Works and Montague Basement. Theatre Works, 14 Acland Street, St Kilda. 19 – 29 February, 2020.
In an ambitious quest to write a great Australian play, Kim Ho draws out a range of uncomfortable imagery that haunts our national consciousness and also addresses some of his own personal anxieties around his craft. This play is replete with examples of his artistry and the sophisticated command he has over his very skilful writing. His imagination seems to know no bounds and his inventiveness is beguiling. His talent often exudes from the text evoking a dense and highly refined sense of cultural history. The project is simultaneously incredibly impressive and incredibly overwhelming.
Ho takes the tale of Lassater's Reef as emblematic of the Australian psyche and deploys the legend to interrogate and a variety of myths that characterise notions of nation and race. The recreation of the 1930 expedition is contextualised as a potential Australian film project which allows for reflection on an industry that has its own misgivings in the way it articulates national values and identity. He especially exploits this context to allude to the troublesome relationship with land that is inextricably linked to an unresolved relationship with Indigenous history and culture.
These issues are rarely fully teased out which allows for a very abstract approach to the questions he raises but it can also leave the audience feeling bemused, even if there is a great deal of pleasure in his mode of interrogation. The second act of the play is much more surreal and the approach becomes increasingly absurd and more personal. At times it feels like an altogether different play. Ho is insistent on taking his audience on a mammoth and monumental journey, not unlike the story of Lasseter's Reef. He undoubtedly succeeds in sweeping his audience away, inviting them to lose themselves in his deep reflections. However, it tends to result in an unchaperoned voyage that wants to proceed without a compass.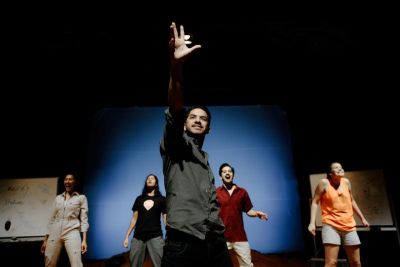 Much of the success of this production can be attributed to the remarkable ability of the performers. They embrace the text and its singularity with an enthusiasm that allows both their acting talent and the play text to shine. Tamara Lee Bailey, Sermsah Bin Saad, Jessa Koncic, and Daniel Fischer highlight the subversive tone and fully exploit this to generate humour and wry cynicism. Fischer is especially notable in his ability to connect with his audience and in his versatility as a performer. The way in which he is able to fully embody his characterisations is one of the strengths of the show.
The staging of this piece also shows incredible resourcefulness to match Ho's inventiveness. The striking set design sometimes echoes the imagery in iconic Australian films such as Tracey Moffat's (1990) Night Cries: A Rural Tragedy. This imagery acts as a motif for the underlying themes of this play, especially those that grapple with the disturbing dissonance between the Australian promise and its reality. Ho takes on the daunting and unenviable task of illustrating the ways in which that promise is frequently a space which is impossible to inhabit.
Patricia Di Risio
Photographer: Jack Dixon-Gunn