Great Falls
By Lee Blessing. Ensemble Theatre, Kirribilli (NSW). February 6 – March 3, 2013.
What a gripping play with which to begin a season! It doesn't promise to excite … a divorced step-father, "Monkey Man", taking his estranged – and unwilling – eighteen year old step-daughter, "Bitch", on a trip across America to the places he visited in his happy childhood. He wants re-connect. She doesn't. She is surly, aggressive, uncommunicative. What's behind this? Why is he bothering?
Playwright Lee Blessing uses this strange journey as a vehicle for them to pick away at the history and undertones that made the time they spent together as a family so tense and distressing. The play is beautifully crafted. There is no unnecessary, rambling reasoning or accusation. Yet their baggage, their resentments, their apprehensions are vividly clear. Blessing's dialogue is completely natural. Both characters are writers, so words are their strongest weapons. Short sentences, sometimes hesitant, sometimes unfinished, always poignant, reveal two strong, yet flawed, characters unravelling past resentments … and facing more immediate problems.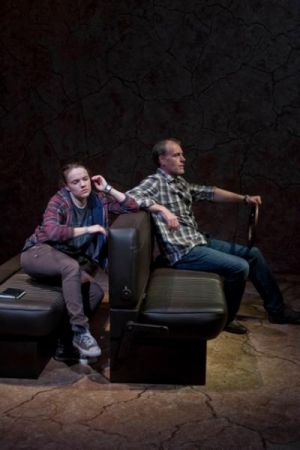 Anna Crawford has given the play the time and veneration it deserves. She has opted for a simple set. It needs no more than the suggestion of the car and stopovers along the way, because the play's power is in the characters and how they relate. Crawford has cast the play well – and been able to give her two actors time to find the intricacies of the characters and the complexities of their relationship.
Christopher Stollery is compelling as "Monkey Man". The character he creates is tense, wary. He knows what to expect, knows he can't push to hard, or pry too deeply too soon – but he is anxious to keep reaching out, to explain. Time after time he backs away, suppresses reactions, and starts again, determined to find something of the relationship they have lost.
Erica Lovell is a distressingly believable "Bitch". She finds the depth of the hurt the character carries in coiled, tight control. She too is wary. She hides behind an almost impenetrable emotional wall. Sharp, bitter outbursts are quickly replaced by defensive body language, stubborn silences, icy glares. Lovell seems to know this character intimately. Her reactions are so natural, her timing so exact, her bitterness so real.
One would think from this that the play is too deep. It's not! Harrowing at times, yes, but tempered by a little humour and moving moments of connection and compassion. It is one of the most beautifully written plays I have seen or read, and this production of it is perceptively directed and sensitively performed. Try not to miss it.
Carol Wimmer
Images: Christopher Stollery and Erica Lovell in GREAT FALLS. Photo by Steve Lunam.