The Grumpiest Boy in the World
Victorian Opera. Director: Cameron Menzies. Conductor: Simon Bruckard. Malthouse Theatre. October 2 – 4, 2015.
Victorian Opera does some amazing work. They appear to have many streams, all running concurrently. This opera involved their Youth Opera performers. It was also a world premiere.
All the performers were between fifteen and twenty-five and full of the exuberance of youth. They were also well drilled. The venue worked well, as younger members of the audience could observe the orchestra in the open pit as well as the action on stage.
The opera is about seven-year-old Zachary, who is very unhappy at being average. So he visits other lands and eventually finds that he does excel – at grumpiness! Most parents could relate to this.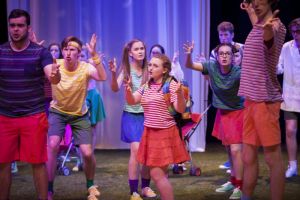 The stage was well-used, with flimsy curtains being drawn across as scenes changed. The music was pleasant, the orchestra fine and the ensemble harmony was strong and well-balanced. The costumes were colourful and over the top.
But I came away feeling less than satisfied, and I think that was the mis-casting of the title role. Jacob Lawrence is a very promising young tenor with quite a mature sound, but that is not what you want in a seven-year-old. A lighter, brighter sound in a smaller body would have been much more convincing.
Most of the roles, and there were many, were well-taken, and I was particularly impressed with Shakira Tsindos as the mother and Stephen Marsh as the first Grump.
This was an entertaining hour and the young members of the audience appeared enthralled.
Graham Ford
Photographer: Charlie Kinross.