Guys and Dolls
Music and lyrics by Frank Loesser. Book by Jo Swerling and Abe Burrows. Directed by Tyler Hess. MDMS (Vic). Karralyka Theatre Ringwood. June 13th-21st, 2013
There's much to love about this spectacularly ambitious production from MDMS:- the fabulous set by Jacob Battista, wonderful costumes by Hazel Green and Tyler Hess; Danny Forward's expert musical direction of a band of the highest order; Jason Bovaird's amazing lighting design, excellent sound throughout; Craig Wiltshire's eclectic choreography; a blistering cameo performance from Jay Miller as General Cartwright; a genuine leading man with a great voice and presence in the appealing Anthony Bolger (Sky Masterson) and a show-stopping star turn from Musical Diva Jaclyn De Vincentis as Adelaide.
When the elements come together and work you'd be hard pressed to find a better production of the show anywhere, and you forget entirely that this is Community Theatre. However, there are some small (and not so small) problems which just took the edge off the overall excellence. Interestingly enough, some of these were elements that are part of what makes the show so spectacular. The set, for example, with its revolving lighted letters revealing other spaces and part-sets (including a full sized religious statue), is quite mindblowing to look at, but it does require blackouts and stage waits to move into place, and it is quite cumbersome when the whole cast is onstage, forcing some members to actually climb over it to make exits and entrances. In the full scale dance routines, there is barely room for the dancers and those close to tripping over the set have to fudge some steps.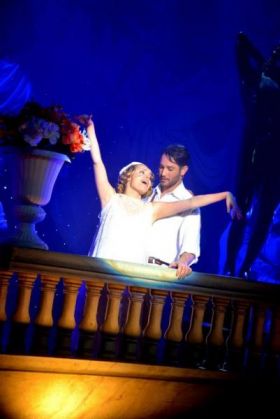 Another example is Jacyln De Vincentis performance, which is also the strongest "plus" in the show, yet overall perhaps works as a minus. Adelaide is essentially a supporting role, not the lead, yet this marvellous performer steals every scene and swamps all other performers on stage with her. How I would have loved to see her play Mamma Rose in Gypsy. The result is that Harrison Wall (clearly very talented and impressive in Act Two) playing Nathan Detroit, has trouble holding his ground with her, and doesn't ever look like he could successfully put off marrying Adelaide. She'd simply knock him out and drag him to City Hall.
And while Bolger's Sky Masterson is a delight on all levels (seeming like a natural successor to Anthony Warlow) Jasmine Dare as Sister Sarah Brown is the victim of poor casting or poor direction, rather than a lack of talent. The natural brunette wears a blonde wig (platinum in the last scene!) and plays the normally cool, intelligent, and determined Sarah (all qualities which attract Sky) as a ditsy blonde with a squeaky voice, the kind of "doll" that Sky has no respect for. It is a great pity, for Miss Dare has a lovely voice but is all too "cutesy" in the role. She's further hampered by going to Havana dressed not in her uniform (the uniforms are too attractive anyway and look like chic office outfits), but in a gorgeous ensemble which might have been made for Daisy in "The Great Gatsby", rather than a missionary sister. It's a directorial mistake, for it's because of the lack of usual "doll" trappings that Sky is able to see and fall for the genuine woman beneath the drabness.
It does seem that Tyler Hess's vision to meld a variety of styles has clouded a clear focus of Runyon's stories, written about street people in the depression who were very much the "have-nots". Everything is just a little too sumptuous, too glamorous. And I confess to not understanding the rationale for the white face expressionless makeup on the men, robbing Robert Clark (Nicely-Nicely), Scott Reid (Benny Southstreet) and Matt Hirst (Rusty Charlie) of natural humour and charm, though all sang really well. Perhaps it's the Director's nod to Gothic Steampunk, but it's anachronistic in this case. Then there's Jay Miller's drag makeup, with its white stripes mirroring the parrot handle on the Mary Poppins' umbrella. It seems some visual choices were made at the expense of truth of character, including the Mission General's gold tarty frock in the last scene. I can't even begin to guess "Why?" Phil Lambert, a fine supporting artist, manages to escape unscathed and give us a genuine and honest cop in Brannigan.
This is still an enjoyable night of Music Theatre – and a remarkable achievement. I saw it on the second night and it felt a little flat in places, but that's to be expected. I still love that Tyler Hess reached so high to push the envelope of amateur production. It just wasn't, for me, the magic MDMS has shown me in the past.
Coral Drouyn