Hades Fading (Hades Memudar)
By Mainteater. Written and directed by Sandra Fiona Long. Composed by Ria Soemardjo. Presented by La Mama, in association with Kath Papas Productions. La Mama Courthouse, 349 Drummond Street, Carlton. 27 February - 1 March, 2020.
This is a delightful marriage between Indonesian culture and Greek mythology. The pairing of these two diverse and contrasting traditions seems incongruous, however, the blending of these two cultures could not appear to be more natural. This is a very unusual interpretation of the myth of Orpheus and Eurydice, yet the staging combined with the lighting, projections, music and costuming conjure up Hades in a precise and alluring manner. The long, flowing, white costumes, decorated with traditional Indonesian headdresses generates an ethereal quality to the personas. Traditional Indonesian instruments and song are seamlessly incorporated into the telling of this myth. Although the characters have a very light and celestial quality the darkness and sombreness of Hades is beautifully evoked through the instrumentalisation and the thundering tones employed in the delivery of the text.
The show is not only spectacular because of the elaborate, intricate and grand nature of the costuming and staging but also because of the striking visuals created by the highly inventive projections. They provide subtitles for the bilingual performance as well as recreating the subterranean spheres in a magical fashion. An extraordinary play of movement is conjured up via abstract images and light and shadow are often exploited in an awe inspiring manner.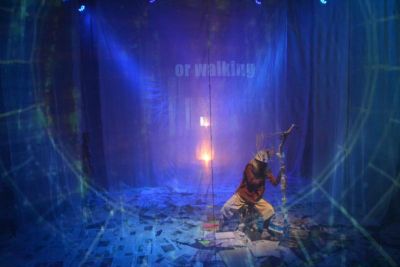 Godi Suwarna as Hades is positively frightening and commanding, capturing the sinister tones of his underworld realm. Rinrin Candraresmi as Persephone is beguiling while Heliana Sinaga as Eurydice provides an astonishing performance which demonstrates enormous stamina. Her character alternates between invoking trance-like states and making cynical gestures with a tone that captures a very contemporary belligerence. This gives her performance an amusing and surprising edge. Wawan Sofwan's version of Orpheus carries all the regal presence of great music legends such as Elvis or Elton. This captures Orpheus's selfish preoccupation with his musical talent with astonishing charm and the western cultural references blend well into the traditional elements of the performance. The effect is delightfully flamboyant. All of these characterisations are beautifully supported and rendered through the delicate and frequently eerie music performed by Ria Soemardjo and Sisca Guzheng Harp.
In a decaying post-apocalyptic world Hades Fading imagines this myth as lost and requiring a laborious effort to recall and relive it in a time that has little patience for such tortuous events. The ways in which the story is recollected and reimagined is told in both Bahasa Indonesia and Bahasa English. The show is the product of a long standing tradition of theatrical collaborations between the Indonesian company, Mainteater, with performance artists from Melbourne. The result is an exquisite and exotic exploration of a familiar story told from a highly original and refreshing perspective.
Patricia Di Risio
Photographer: Muhammad Sa'iq