HAIR
Book and lyrics by Gerome Ragni and James Rado. Music by Galt McDermott StageArt. Directed by Robbie Carmelotti. Chapel off Chapel. February 1 – 17, 2013.
When live theatre really works it is the most joyous and uplifting experience in the world…and this latest production of the 1968 Tony Award winning musical really works. Despite abysmal sound problems (feedback and booming. Guys…I know you rehearsed it, but stop patting each others faces and hair when the radio mikes are on, or reposition the mikes) nothing could dull the sheer exhilaration of this marvellous psychedelic celebration of life. It should feel dated, but instead it feels fresh, and raw, and passionate, and NOW.
Direction by Robbie Carmelotti and, in particular, choreography by Paul Malek are exemplary throughout. They completely understand the time and the material. The band, under the direction of Cameron Thomas on keys, is terrific and gives off a casual and slightly anarchic air as they relax between numbers.
The cast? Well….I saw the original Australian production with Reg Livermore, John Walters and Marcia Hines, and the current cast could more than hold their own in that company. Most (though not all) are semi-professional and have cut their teeth in Community Theatre (which shows the astonishing standard of Community Theatre in Victoria). They bring an energy, a commitment, a passion and intensity to the production which is palpable. You could literally FEEL the love embracing the Chapel Theatre, and they truly inhabit the skins of their characters.
As Claude, the gentle hippy who just wants to "be", but does his duty anyway, Ashley Rousetty is marvellous. He has a gentle vulnerability which makes us want to embrace him, and doubles the impact of his tragedy. With great physical presence, a dancer's physique and a terrific vocal range, he's a genuine triple threat. His rendition of "Where Do I Go" at the first act finale was so moving I forgot to take in the fact that everyone was nude!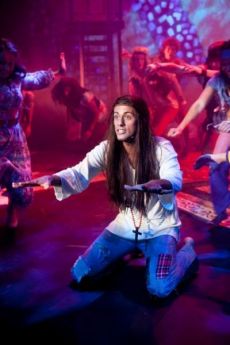 Sam Kitchen is a charismatic Berger. A fine singer, he brings all his vocal chops and swaggering presence to the role. He is Judas to Claude's Jesus. He commands the space and could quite easily dominate it if he chose. It's a fine, generous performance.
Renee Pope-Munro as Sheila brings 20 years of training to the role and it shows. She has two of the best songs, "Easy to be Hard" and "Good Morning Starshine" and excels in both. It's a minor point but she is perhaps too professional, lacking that rawness which works so much in favour of this production.
Dianne Algate is a Dionne totally in touch with her inner hippy and, though diminutive, is always a commanding presence. Ed Deganos, Sam Dariol, Veronica Wnuk and the delightful Jessica Barlow are all perfectly cast and bring passion and integrity to their roles. The Tribe have created great individual characters, yet meld together perfectly in harmonies and dance numbers, and that's a major feat in itself. Special mention to the stunningly beautiful Gina Mets, who draws us into the hippy world with an almost ethereal rendition of "Aquarius" and Josh Stent, who is both hilarious and impressive as Margaret Meade.
I was also in awe of The Vietnam War sequence and Claude's demise. It was moving and confronting, and beautifully directed. More than 40 years later, young men are still going to war for reasons they don't understand, and the hippy creed of "Make Love, Not War" still has weight in a world that is far more conservative now than it was in the sixties.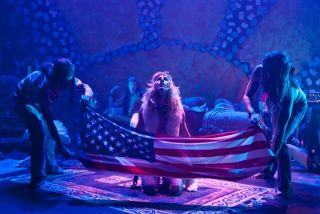 One thing that personally irked me; NOWHERE in the programme is there a mention of the writers…I had to Google to find their names. That's an unacceptable oversight.
StageArt's Katherine Armstrong, as producer, has thrown down the gauntlet to all new companies. She and her director are clearly committed to finding excellence and truth in each production, and this will be a production that is hard to top. Go op shopping and find hippy beads, flowers for your hair and psychedelic body shirts. Be a part of the Tribe and give the love as well as feeling it. It's an experience you won't forget.
Coral Drouyn
Images (fronm top) L-R Samuuel Dariol, Sam Kitchen & David Miles; Jessica Barlow as Jeanie & Renee Pope-Munroe as Sheila; Ashley Roussety as Claude; L-R David Miles, Samuel Dariol & Sam Kitchen, and Sam Kitchen as Berger with cast of HAIR by StageArt. Photographer: Belinda Strodder.