Hairspray The Broadway Musical
Music: Marc Shaiman. Lyrics: Scott Wittman, Marc Shaiman. Book: Mark O'Donnell, Thomas Meehan. Regals Musical Society (NSW). Directed by Julian Batchelor. Musical Direction by Peter Sampson. Choreographer by Tracey Rasmussen. Rockdale Town Hall. October 9 – 17, 2015
If you apply too much Hairspray, your head feels like a rock. Likewise I felt that I might have been applying too many Hairspray the Musical performances to my diary, having already been lucky enough to see it on Broadway, Australia pro, pro-am and the movie. So, imagine my surprise to be thoroughly entertained by the Regals' zippy production from go to woe … even though it was the fifth time round.
There was no sign of opening night nerves. The young energetic chorus crisply moved around the stage to the neat 60's choreography and the large band was pitch perfect.
Hairspray offers a variety of somewhat two dimensional roles for cast, allowing for a range of abilities to shine. However there are two roles which need to do something special. The Regals were not let down.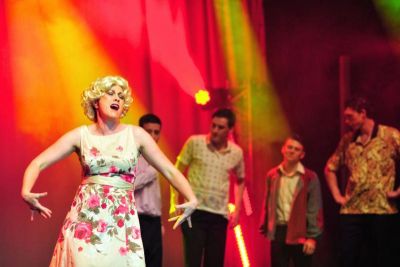 Hannah Barn was a dynamo, bouncing and flapping around the stage as Tracey Turnblad, the teenager misfit who woos her way onto the Corny Collins show.
Her 'mother', Peter Sharratt as Edna Turnblad, looked like a Rugby Front Row Forward wearing a tent. Yet he shimmied around in high heels with aplomb. His deep raspy voice was a hoot and he sealed the best gag of the night with a kiss on the lips with his skinnier spouse Wilbur (played with panache by Michael Norris.)
No principals let the team down- Stacey Wilson and Lacinda Fisk were suitably snooty as Velma Von Tussle and her daughter Amber.However, I felt that some of the male leads could have been a bit cheesier and bit raunchier.
The audience didn't mind giving the Regals a well deserved standing ovation.
David Spicer
Photographer: Jason Wong