Half Time
Book by Chad Beguelin & Bob Martin. Music by Matthew Sklar. Lyrics by Nell Benjamin. Additional Music by Marvin Hamlisch. Based on the motion picture GOTTA DANCE. Nineteen 98 Productions in association with Hayes Theatre Co. Directed by Helen Dallimore. Musical Director: Jessica Manning. Choreographer/Asst Director: Madison Lee. April 1 – May 2, 2021
This would have to be the best value live entertainment going around. A sizzling cast and band of 20 on stage up close– for an audience of 111.
The star Nancye Hayes only needed to walk onto the stage to score a rousing ovation, but being the mature professional that she is, was undistracted by the adulation.
Her character is Dorothy/Dotte, the Queen Bee of the senior's dance troupe nicknamed Nifty Shades of Grey. Based on a true story, the nine women and one man were selected to perform at half-time during a basketball match, and go through the rigors of being trained in hip hop.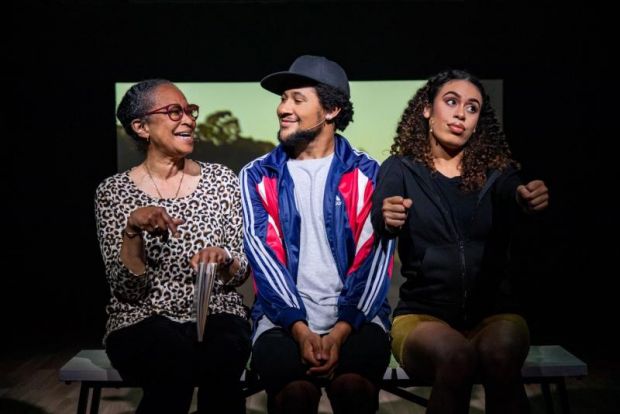 Fresh from its first try-out in 2018 in the United States - the musical, by the team who wrote The Prom - is a joyous and uplifting work, which seems destined to be a popular production on the community theatre circuit.
After all, which suburb or town doesn't have a group of grey dancing 'girls' who would love to return to the spotlight?
Although all eyes were initially on Nancye, the musical gives many opportunities for others to shine. Almost everyone gets one good solo.
Zoe Carides as Camilla shows that seniors can have a healthy sexual appetite. Deni Gordon as Bea tries to guide her daughter Kendra (Chaska Halliday) through a relationship with a married man.
Eric Rasmussen (Ron), as the only male dancer, was stylish in his solo where he mourned his lost love. Gabrielle Chan (Mae) was dignified as the dancer with the weakest technique, whilst Dolores Dunbar (Joanne) produced a showstopper where she reminisced about her days as a diva.
There are five "youngsters" playing the trainers, amongst them Tom Sharah oozed charisma as Fernando and Coby Njoroge (Anthony) produced some eye-popping hip hop.
The musical has some nice tunes – crisply played by the live band - and there are plenty of gags to keep the narrative flowing. You could not say, however, that the audience was sitting on the edge of their seats in suspense about what might happen next. 'Sondheim it aint' – noted someone in the audience at Half Time of Half Time.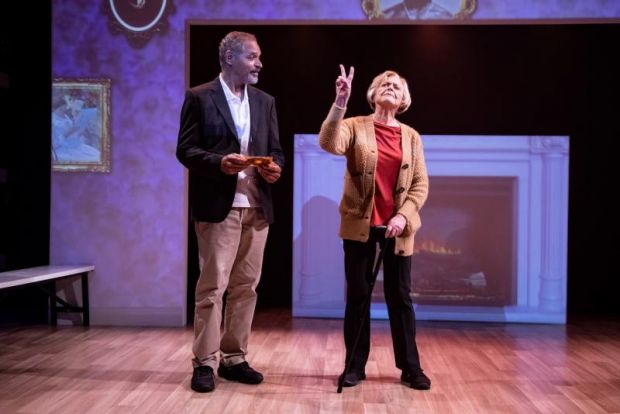 The set, designed by Kate Beere, was, as we've come to expect at The Hayes - nifty. Footage produced by Aron Murray was projected onto a white frame. This swapped between flashes of sport and clips of interviews with the cast.
During a close up, Nancye Hayes scored one of the biggest laughs, with just a glance down of her eyes – how is that for efficiency?
As for the hoofing – from my perspective (as a non-dancer) the hip hop and other routines looked seamless. My only critique was that perhaps the dancing during their rehearsal routines was a little too good to be true.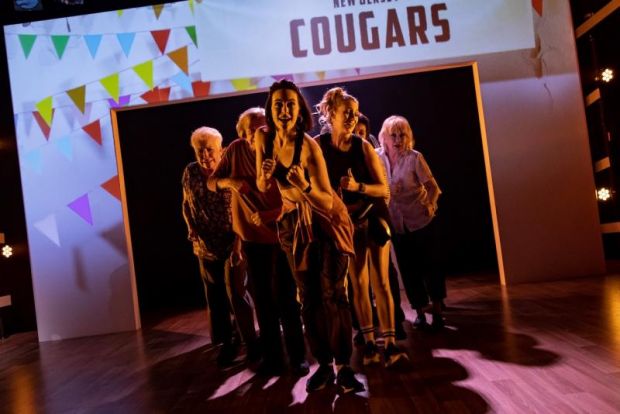 But 'too good to be true' is not a bad rap to have in a musical.
David Spicer
Photographer: David Hooley