Hamilton
Book, Music and Lyrics by Lin-Manuel Miranda. Directed by Thomas Kail. Filmed at Richard Rogers Theatre NYC. Streaming on Disney+ from July 3, 2020.
Hamilton is here and aren't we glad! With no live theatre for months we can now indulge and immerse ourselves in the most talked about (and rightly so) production of the last decade. Yes, it really is that good.
There's a certain irony in this particular show playing the Richard Rodgers Theatre on Broadway. Rodgers was the old guard doyen of musical theatre, Miranda the upstart love-child, ripping the crown of succession from the two heirs apparent …ALW and Sondheim, and turning musical theatre upside down in the process. Hamilton has been called a musical "About America then, by America now", and that makes even more sense now, some five years after the show's opening, with America in turmoil as it was in the revolution. We're seeing a new revolution take place in what Miranda calls in one number "America, you great unfinished symphony".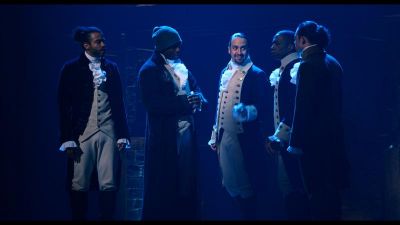 It would be foolish to dismiss Hamilton as a "rap" or "hip-hop" musical. Spoken songs were around long before rap and, in musical theatre, Noël Coward and Rex Harrison built careers on them. Miranda marries contemporary music styles, including rap and hip-hop, jazz and blues, but always at the core there is a strong melodic line, and the spoken word itself is lyrical at all turns. Put simply, Lin-Manuel Miranda writes wonderful music and lyrics, only the presentation is different. It's new, and yet somehow accessible in our psyche. For those used to more conventional musicals, it will jolt you out of complacency. For those of us who saw and loved Miranda's other musical In the Heights we need no adjustments. Miranda is the complete storyteller, marrying stunningly witty and sophisticated lyrics with genuine poignancy, often within the same song. You need to listen carefully, as often the wittiest lines are thrown away (Wait till I sally in on a stallion, with the first black battalion).
The story of Alexander Hamilton, an orphaned opportunist from the Caribbean who became one of the USA's founding fathers, writing most of the essays that became the constitution, has intrigue, betrayal, politics, adultery and even murder at its core.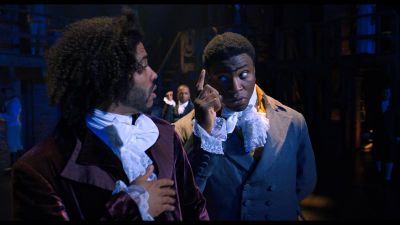 Miranda himself plays Hamilton, but he is not the strongest voice on the stage, nor even the most charismatic performer. It's a credit to his integrity that he makes no attempt to steal the show. The cast is essentially non-white and Leslie Odom Jnr is nothing less than sensational as Aaron Burr, the man who ultimately kills Hamilton. Daveed Diggs is charismatic and owns the stage as both Lafayette and Thomas Jefferson and his second Act song "What'd I Miss?" is a show-stopper - as is Odom's "The Room where it Happens". Christopher Jackson's Washington has great command and a thrilling voice – and the ensemble is full of amazing triple threats. Phillipa Soo is perfect as Hamilton's wife Eliza, and Renee Elise Goldsberry is a force unto herself as Anjelica. As for Jonathan Groff as King George III, every moment he is on stage is sheer comic delight.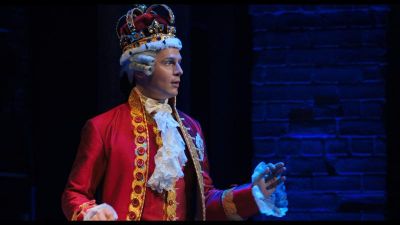 But Miranda is the glue that holds the masterpiece together. He never overplays, even in "My Shot", where he could easily decimate fellow cast members if he chose. What he brings is true honesty and empathy and some bloody good acting which the filmed version helps showcase. The pain in his eyes in some scenes is palpable. It's in the quieter moments that we can take a breath and measure the brilliance of the man in all his talents. He lives inside Hamilton's skin and it's clear he will not settle for less than excellence.
Both the show and the filming were directed impeccably by Thomas Kail and choreography by Andy Blankenbuehler is simply fabulous. It's impossible to praise too much Howard Binkley's lighting, often so subtly emphasising a line that you might miss it, or David Korin's wonderfully innovative set and revolve. This is a triumph in all respects and secures Miranda's place in the Musical Theatre Hall Of Fame, even if he never wrote another word. But, with that much talent, just try to stop him.
It's on Disney+ and you will Love it - that's a prediction, not a command.
Coral Drouyn