Hamlet
By William Shakespeare. Melbourne Theatre Company. Sumner Theatre. 19 July to 31 August 2011.
Each new production of Hamlet brings with it fresh enlightenments and this absorbing, fast paced, modern day production directed by Simon Phillips is no exception.
It is early days for this season but the skeletal bones are most skilfully placed, to be richly fleshed out, in the fullness of time, by a well-chosen, consummate cast.
Whilst capable charismatic actor Ewen Leslie brings us a contemporary Hamlet who oscillates, ruminates, fluctuates and strains for resolve - the action spins on a striking revolving set of huge steel and glass rooms where all is mirrored (designed by Shaun Gurton). In a rarefied glasshouse environment, everywhere characters rotate in worlds of obsessive self-interest, highlighting how narcissism, self-indulgence and the inability to communicate, shape unhappy and unwell individuals, now, as ever.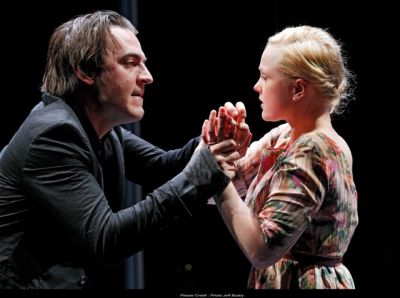 John Adam is masterful as Claudius. His introductory monologue gives an initial taste of the vocal and physical fluidity he uses to good purpose throughout the evening.
Ophelia, who as a woman is not entitled to be 'to her own self true', is played splendidly, with a most convincing air of hysteria, by Eryn Jean Norvill. Norvill's voice is beautifully crisp and clear and she has the presence of a classical Ophelia.
Garry McDonald's Polonius is, likewise, distinct and engaging as well as often being absurdly funny. His Gravedigger is suitably enlightening, droll and convincingly toothless. Polonius receives much laughter for his use of an item (perhaps a mobile phone) to record conversations. I cannot help wondering why this concept is extended to the use of an MP3 player, at times, by the broody, disengaged Hamlet.
Smoke is puffed around Robert Menzies' angry and revengeful ghost of Hamlet's father. More smoke or the projection of a larger than life ghost through the glass walls could add a more potent and convincing 'other-worldliness'.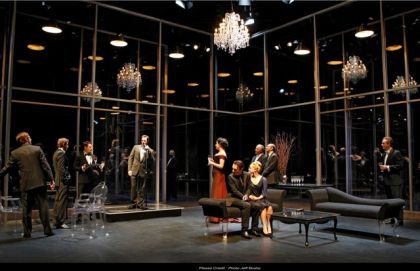 Generally the costumes designed by Esther Marie Hayes are complementary and sometimes stunning, as with Gertrude's dresses that are beautifully set off by Pamela Rabe, striking as Hamlet's imposing Mother. However Leslie's initial Spivs suit appears to be designed for a limited aspect of Hamlet's character and is unhelpful, restrictive and unflattering for the actor.
The sound scape by Ian McDonald is fittingly supportive and evocative. The provocative 'play with in a play' is a raucous delight, energetically enacted, notably, with Jamieson Caldwell as Player Queen.
Reliant on Horatio (Grant Cartwright) as emotional and moral compass, one craves to see more of the easy friendship between Horatio and the languishing Hamlet. Appropriately frustrated by this and every grim mishap and sorry miss-communication, we watch the tragedy's swift unrelenting trajectory.
There are many interesting and refreshing choices, both in the production as a whole and, in the work of Ewen Leslie in the title role.
Suzanne Sandow
Photos (From Top): Ewen Leslie and Pamela Rabe; Ewen Leslie, Eryn Jean Norvill; Cast of Hamlet. Photographer: Jeff Busby.
To keep up with the latest news and reviews at Stage Whispers, click here to like us on Facebook, or follow us on Twitter.