Hamlet Prince of Skidmark
By The Listies. Sydney Theatre Company. Seymour Centre, Sydney, July 7 – 22, 2018; Riverside Theatre, Parramatta, July 25 – 27; The Playhouse, Canberra Theatre Centre, Aug 3 & 4; Wagga Wagga Civic Centre, Aug 7; Illawarra Performing Arts Centre, Aug 10 & 11; Glen Street Theatre, Aug 17 & 18.
Hamlet Prince of Skidmark is a fun, silly parody on Hamlet. This crazy, cheeky play got kids out of their seats. With the bright range of colours, cool effects and funny sounds your kids will defiantly have a laugh! The play started off strong with the ushers introducing themselves. One of them explains that they have given a gift basket to the crew the night before and it was 400 years past its use by date.
This led to the terrible, icky BROWN PLAGUE! This is not fun as the symptoms include the chicken walk, having a Scottish accent, turning all sorts of colours and of course taking a trip to the toilet. This resulted in the stars having to improvise to save the show. They make jokes, puns, dance and engage with the audience. They don't really know what they are doing but they try to explain Hamlet as best as they can.
We end up meeting the manager and she too joins in the fun. There are lots of laughs, fart noises and poo jokes. The use of props makes the show more exhilarating and interesting. From crazy costumes to silly string, to dinosaurs and pirates, there was never a scene without something new.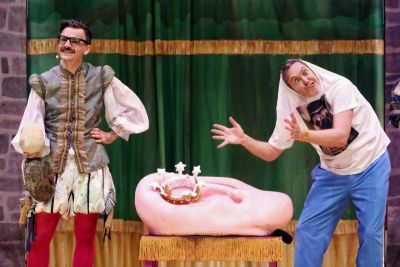 A canon was used to explode smoke which was a cool touch that kids loved. Having the kids come up and a perform on stage was a great way to interact and engage with everyone. A little puppet show performed behind sheets was very creative and cool to see. There were many creative scenes and they told a great story. Even SpongeBob and Dory made an appearance.
Adding 21st century humour was a great way for the audience to relate and joke around. At the end everyone threw green Aliens that were under our seats. Everyone was screaming and laughing, having a blast throwing their aliens to the stage. It got wild! If you're not a fan of toilet humour this isn't the play for you as this play does contain a lot of it. Overall kids really enjoyed the play and there were many laughs.
Review by Ester Schwartz aged 15.
Photographer: Prudence Upton