The Happy Prince
After Oscar Wilde. Little Ones Theatre. La Mama – 18 to 29 January 2017
This much anticipated offering is an entrancing, resonant, contemporary interpretation of Wilde's deeply moving work that meets expectations of excellence. It seems to be the hot ticket of this year's Midsumma Festival and has pretty much sold out. So hopefully there will be another incarnation in the not too distant future.
Wilde's children's story The Happy Prince, like Paul Gallico's The Snow Goose, E. B. White's Charlotte's Web and Hans Christian Anderson's The Little Mermaid, is highly compassionate and profoundly moving. These stories, and there must be others, if read or heard as a child are assimilated in a profound way and stay with us for life.
Stephen Nicolazzo's careful direction barely leaves a hair out of place and every subtle interaction on stage seems integral and necessary. It could almost be a film - with perfectly set up frame following perfect frame. Nicolazzo is, if there is such a thing, a Theatre Auteur. And everything in this work, as it is unfolding, seems to explore and exude Wilde.
Janine Watson's Prince has all the elegance of a 19th century statue. She also has some of the self-importance, sense of command and an edgy soupçon of cynicism found in some of Wilde's well-known theatrical characters. The Prince's heart and sense of empathy is as huge as her capacity for self-sacrifice. Watson has the skill as a performer to convey considerable depth and potency.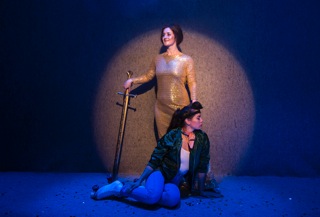 Catherine Davies's Swallow is a street wise, somewhat cocky, self -aware roller scatter with a delightful dash of humour. Davies's physical skills come to the fore allowing us watch the Swallow metaphorically lose the capacity to fly and fade and freeze at the feet of her beloved statue.
This staging of The Happy Prince has traces of the milieu of a Victorian Peep Show and the hint of a tawdry illicit edge.
In changing the gender of the Prince and the Swallow and making the relationship between the two women an erotic one, the character's vulnerability and tender heartedness is, possibly and kind of strangely, even more poignantly highlighted.
Sound Design and Composition by Daniel Nixon is rich and marvelous.Eugyeene Teh has created a unique and special space in tiny La Mama and simplicity seems to be her key.
The concluding text spoken by Watson is hauntingly beautiful but also oddly jarring as they are not actually part of the original children's story.
Truly a treat!
Suzanne Sandow
Photographer: Pia Johnson
Credits
The Happy Prince – Janine Watson
Swallow – Catherine Davies
Director - Stephen Nicolazzo
Set and Costume Design – Eugyeene Teh
Lighting Design and Production Management – Katie Sfetkidis
Sound Design and Composition – Daniel Nixon
Producer – Jo Porter
Stage Manager – Jacinta Anderson
Assistant Director – Paul Blenheim
Design Assistant – James Lew
Assistant Stage Manger – Kristina Arnott