Hare Brain
Spare Parts Puppet Theatre, Fremantle WA. Directed by Philip Mitchell. July 9-23, 2011.
From the moment brightly clad cleaner, Jessica Harland Kenny, wrestles with a vacuum cleaner, it is clear that this is going to be a very different rendering of Aesop's The Hare and the Tortoise.
Lucy (Harland Kenny) representing the tortoise, helps stressed out advertising executive Harriet Hare (Kali Ledger) construct an advertising campaign for soft toys using her slow and steady approach and a variety of puppets made from everyday objects - thoughtfully created by Jiri Zmitko and Cecile Williams. Most beautiful was a turtle constructed from a water bottle and rubber gloves, which laid eggs. She was a delight to observe.
While retaining and preserving the original fable, Justin Cheek's script adds some modern twists, humour aimed at both young and older audience members and enough scary twists to necessitate one small audience member needing to be carried out in tears.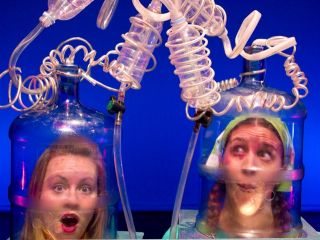 Most of the audience screams, though, were those of joy and the audience remained focused throughout the hour long performance. The performers work joyously with each other and with their puppet companions, are delightfully over the top but decidedly recognisable.
A fun school holiday production that will delight the children, but fascinate their chauffeurs.
Kimberley Shaw
Images: Top - Lucy and Harriet and their minis (Jessica Harland Kenny and Kali Ledger). Lower - Harriet and Lucy in Thinktank.
To keep up with the latest news and reviews at Stage Whispers, click here to like us on Facebook, or follow us on Twitter.