The Hatpin
By James Millar and Peter Rutherford. The Regals Musical Society. St George Auditorium, Kogarah (NSW). October 12 – 20, 2012.
The Hatpin isn't a musical for faint hearted tastes. There's no conventional love story, though there's a moving story of the love of Amber Murray, a young, single mother, for her child. There's no big dance routines, or colour and movement. But for anyone who likes dramatic musicals, dealing in genuine human tragedy and telling real Australian stories, The Regals Musical Society production of The Hatpin is well worth a visit.
The Hatpin tells an infamous true story from Australian history of a pair of baby farmers who murder the infants they are paid to care for, and the single mother who fights for justice for her son.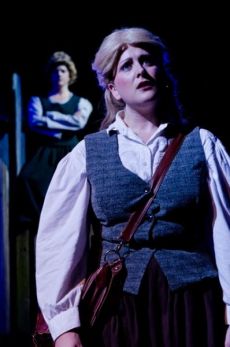 This production, directed by Meg Day, is the darkest interpretation of the three Sydney productions of The Hatpin I've now seen. Why?
Most immediately, the role of Harriet Piper, a fruit store owner who befriends Amber, is played for empathy rather than comedy in Virginia Natoli's interpretation. Don't mistake me, there's still gentle unforced humour there, but not broad 'comic relief'. It's a very satisfying performance.
Then there's murderous Charles and Agatha Makin. Their portrayal is chilling in the hands of Stephen Wheatley and Katherine Cassidy because these killers of 13 infants seem like such an ordinary, unprepossessing couple, in pared back performances without a hint of melodrama. They're the sort of neighbours you'd scarcely give a second glance, like so many serial killing couples we've become familiar with through the media.
Tanya Boyle's Amber Murray hints at a slightly stronger, less initially frail heroine, somewhat less of an innocent for mine than previous incarnations.
Changes to the piece itself also contribute to the darkening of The Hatpin, which continues to be something of a work in progress since its professional production in 2008 – changing a lot or a little at each viewing, as the authors continue to stiffen the piece's spine.
Adelie Battam delivers a speech by a young woman who was hidden away during her pregnancy, then expected to give birth silently, particularly poignantly, while Christie New, as teenager Clara Makin, particularly in her climactic witness box scene, gives a tightly controlled, compelling performance.
An effective multi-level setting of paling fences allows for flexible staging and areas for the action, facilitating fluid scene changes, while effectively semi-concealing and accommodating the mid-sized on-stage orchestra on this smallish space, without cramping the action. Hidden away, Kane Wheatley's musicians handle the brooding atmospherics of the score admirably.
On first night there were the usual, not too frequent and forgivable community theatre opening night nervous stumbles and technical glitches, almost inevitable without the advantage of the previews and tech runs afforded to pro shows to iron such issues out before reviews are invited. Most were well covered by the more experienced performers, so that the intent was not lost.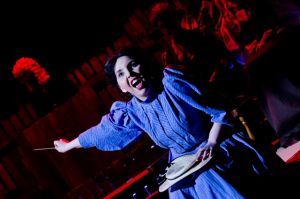 As I mentioned earlier, this is my third Hatpin, and for a third time, the costuming, like it's setting, is been unremittingly dark and drab, consciously matching the theme of the show. This has been the constant in a show that has varied and grown to such great advantage. I can't help wondering if some well-placed, appropriate colour might not counterpoint and heighten the themes, while stimulating the audience visually.
Despite its harrowing musical theatre journey, The Hatpin reaches a satisfyingly uplifting ending, or, rather, new beginning.
Recommended for anyone who likes their musicals with a bit of dramatic bite.
Neil Litchfield