Hayley Sugars: Songs of Desire
Part of Opera Queensland's Intimate Concert Series. Conservatorium Theatre, Griffith University, South Bank. Friday, February 14, 2020
Hayley Sugars sets out to tell the truth about love in her intimate Opera Queensland recital that kicked off on Valentine's Day, and it was not all easy listening.
Using her own words as well as those of the masters, she sang her way through tales of first love, secret love, unrequited love, lost love and doomed love.
The one hour concert was seductive, tragic, magical, entertaining, but above all, honest, covering works from Franz Schubert's Faust-inspired Gretchen am Spinnrade, to the vocal gymnastics of George Frederic Handel's Dopo Notte from Ariodante and Cole Porter's So In Love, from Kiss Me, Kate.
German, Italian and French lyrics were transposed into English in the program and Sugars urged people to follow along while she sang.
This supported Opera Queensland artistic director Patrick Nolan's aim for the concert series, to bring opera before a new audience.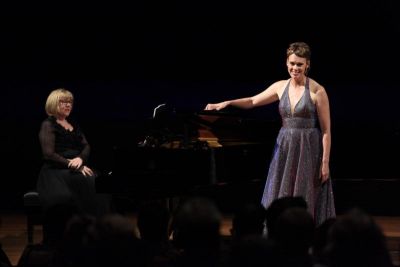 While English was not the strongest love language on the night, Sugars' rendition of the English folk song Water of Tyne by Michael Neaum had us all transfixed as we all waited on an English shore for a loved one who would never return.
Queensland's award-winning mezzo-soprano was accompanied by the hugely talented Narelle French who gave Henri Duparc's L'invitation au Voyage a spellbinding ending.
The evening was concluded with an encore of If I Loved You from Carousel because Sugars said she could no have the concert ending on a sad note.
The next Intimate Concert recital will be held on March 13.
Debra Bela
Photographer: Craig Fuller