Head Full of Love
By Alana Valentine. Queensland Theatre Company. Cremorne Theatre. 7 July – 11 August, 2012.
This play defies genre definitions. It is a drama about intertwined lives but is so full of humour that you leave the theatre with a warm and fuzzy respect for the central problem – and hopefully remember it and discuss it widely.
Credit for this goes to Alana Valentine's deft play structure and to the splendidly light and affecting performances from Roxanne McDonald (Tillie) and Collette Mann (Nessa). The relationship that develops between these two marginalised women is at the heart of the piece and they carry us there with them through a 'beanie connection'.
Simone Romaniuk's set of rusty corrugated iron surrounding a red earth wasteland captures the Red Centre instantly. Projections of wide horizons and desert vegetation establish the wide-open spaces and isolation that tourists come here to experience. Top marks to Ben Hughes for his ingenious lighting design that supports Romaniuk's concept.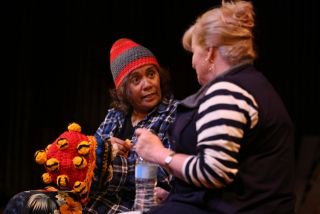 There is a culture clash: Nessa, refugee from a Sydney divorce, a dominating son, and a possible police search, meets Alice Springs local, Tilly (with advanced kidney disease needing regular dialysis) knitting a beanie. They eye each other off cautiously. Nessie's opening line: "Should I say Sorry first?" invokes instant laughter. From then the audience is on their side as they forge emotional contacts to become 'sisters' and share each other's social and personal loads.
We even get a beanie garden and tears at the end!
Jay McKee