The Heartbreak Choir
By Aidan Fennessy. Melbourne Theatre Company. Southbank Theatre, The Sumner. 25 April – 28 May 2022
In a small country town, on the fringe of the commuter belt, five very different women gather in the musty old CFA hall. They were members of the local community choir, but they've split away to form their own choir. Why they did that is a central question in the play. Their leader is rather solemn psychologist and would-be politician Barbara (Maud Davey). Totty (Louise Siversen), literal minded mover and shaker, is the richest woman in town. Very pregnant Aseni (Ratidzo Mambo), by illuminating contrast, is from Zimbabwe – a qualified doctor who works in the chemist's. Straight talking Mack (Carita Farrer Spencer), short fuse, up front and very down to earth, is there with her daughter Savannah (Emily Milledge), tall, a bit Goth, and so shy that she whispers what she wants to say in her mother's ear. A lovely reveal is that Savannah can sing like an angel. Since this is a play about a choir, we do wonder at the start if they can sing…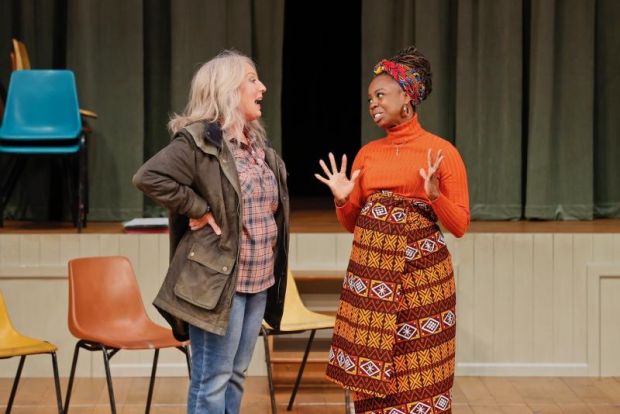 Above all, director Peter Houghton clearly has a great respect, if not love, for Fennessy's text (he also directed Fennessy's The Architect) and he has realised this play in all its detail, warmth, charity, and humour. He lets this terrific cast shine, and every performance is spot-on.
All characters have been expertly cast; and they have been sympathetically observed – without sentimentality – by the playwright, the late Aiden Fennessy. He clearly had the sharpest ear. Each woman has her own way of speaking and the naturalistic, everyday dialogue sparkles as they clash, bicker, tease, and care about each other. I should also add that designer Christina Smith's costumes are perfectly chosen for each of them – and her CFA hall is just right: you can almost smell the dust, mould, and floor polish.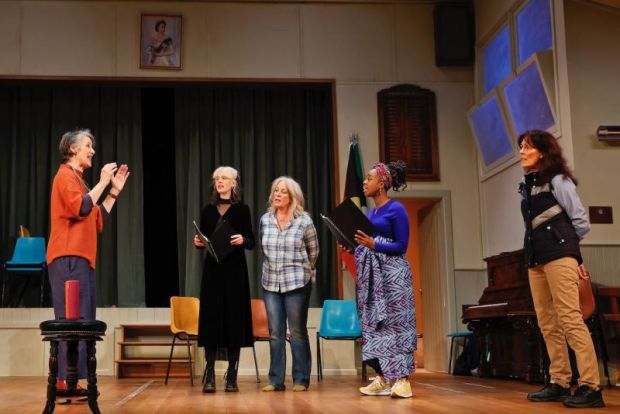 The women will be joined by local policeman Peter (William McInnes) and later still by Peter's gangly son Beau (Julian Weeks). Widower Peter is awkward, shy, rigid inside his character armour, but curiously drawn to the choir and to these women, who were all mates of his late wife. Barbara was her best friend. At first, we're inclined to laugh at Peter: McInnes goes riskily close to the cliché of the butch country cop with his pose of authority, strangled diction, choice of audition song and jerky dance moves. But McInnes and Fennessy take us past that and deeper so that we understand, and we care. It is a finely judged performance – and it's Peter's story that is the dark side of this comedy and it is Peter who will be most centrally healed.
Aiden Fennessy was dying when he wrote this play, and I'm not the first to say that writing it was an act of defiance in the face of his own fate and all the negativity that surrounds us and threatens to overwhelm us. In an interview, he spoke of the 'deep need we have to come together' – and how, through the 'crucible of song', the characters can 'hold their differences and be together at the same time'.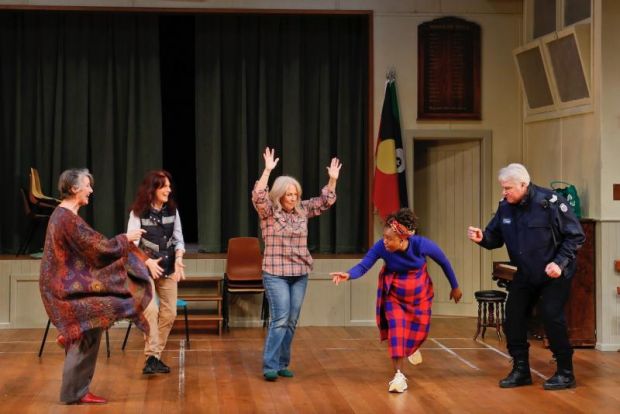 The terms 'up-lifting', 'heart-warming', 'feel good' and even 'optimistic' are all devalued and pejorative these days: they signal schmaltz, or something with all the depth of a greeting card. But this play is heart-warming and optimistic, and it is both because of its flawed but loveable believable characters. Not without conflict, not without pain – but with a lot of humour - they find their way through to healing and community. In these divisive, polarised times that's quite an achievement. Sentimental? Hoping against hope? Perhaps, but as the play reaches its rousing conclusion, we believe it.
Michael Brindley
Photographer: Jeff Busby
BUY THE SCRIPT HERE.