Heathers The Musical
By Laurence O'Keefe and Kevin Murphy. Segue Productions. Goodwood Institute (SA). September 12 – 21, 2019
It was a pleasure to attend Heathers The Musical on a sold-out Saturday night amongst the faded elegance of Goodwood Institute. Presented by Segue Productions Heathers does not disappoint, as evidenced by the cheering fans at curtain call.
The musical is based on the darkly comedic 1988 film. Although a flop at the box office, it found a cult following after release to video format. Both screen and stage versions follow the clique of three American high school girls (all named Heather) and their makeover of Veronica Sawyer, the 'odd one out'. Dark themes are revealed around issues of bullying, misogyny, rape, teen suicide and mental health as the characters develop bonds, break trusts and enter into dysfunctional relationships - all quite relevant for young people in today's society, as Director/producer Ben Stefanoff mentions in his programme introduction.
Heathers The Musical found success during an off-Broadway run (2014) then West End engagements in London (2018). An Australian production premiered at Hayes Theatre in Sydney in 2015 with direction by Trevor Ashleyand choreography by Cameron Mitchell. Original music, lyrics and book by Laurence O'Keefeand Kevin Murphyare both complex and easy to listen to but offer significant challenges for a young cast.
A wealth of talent is revealed in this production, from lead roles through to the very present and engaged chorus and excellent musicians. There is sarcasm and a plethora of genius one-liners to savour: 'Grow up Heather, bulimia is so '87'; 'I'm hot, pissed and on the pill'; 'Whether to kill yourself or not is one of the most important decisions a teenager can make'; 'Dear diary, my teenage angst bullshit has a body count'; 'If you were happy every day of your life you wouldn't be a human being, you'd be a game show host'.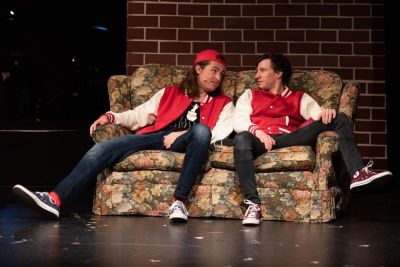 Millicent Sarre features as Veronica, with a flawless American accent and sensational vocals that meet every challenge presented by the compositions. This role is demanding for any actor/singer but Sarre shines throughout, connecting with the audience and committing to some difficult scenes (including a sexual encounter that is sensitively directed by Stefanoff).
The 'Heathers' all do well: Nikki Long as 'queen' Heather Chandler ('richest, hottest, most magnetic, cruellest girl in town'), Kelsey McCormack as Heather Duke ('epic bitch') and Maya Miller as Heather McNamara ('beautiful, innocent, stupid and mean on command'). All three women embrace their characters with conviction and are vocally on point. Mention must be made of the tender and beautifully executed "Lifeboat" solo from Miller.
Gus Robson is JD Dean, the mercurial and dark character who befriends Veronica. He shines in "Freeze Your Brain" and the chemistry between Robson and Sarre works well during their many duets. Robson played the early charismatic JD well but possibly struggled toward the end where the character's emotional and mental state becomes tortured and dangerous. Whether a personal or directorial choice, JD seems to gaze down at the floor for much of the time as he loses his grip on reality. It would have been better if we had been able to witness madness in the character's eyes to complement physical choices.
Ram and Kurt are two high school jock characters who epitomise toxic masculinity in cringe-worthy scenes where they terrorize others. The two personalities are delivered by Blake Ascione and Simon Barnett, with hints of Commedia dell'arte physicality and excellent vocals, particularly Ascione's baritone.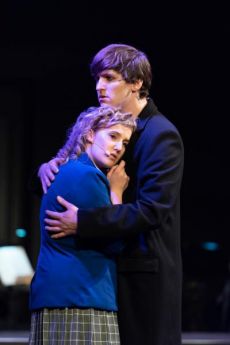 Nic Equid and Dylan Rufus cover a number of the adult roles with great stage presence and appropriate comedic nuances. Equid's contribution to "My Dead Gay Son" was a high point. Also taking on dual roles (teacher Mrs Fleming and Veronica's mum) Sarah Jane Whiteley is magnificent. Whiteley truly commands the stage and her voice is outstanding.
The creative team behind this season is obviously talented and motivated and has garnered great support to bring Heathers to fruition - it does 'take a village'. Direction by Ben Stefanoff is generally first-rate and he seems to bring out the best in his cast, both musically and theatrically. As always, it is wonderful to have live music and Musical Director Kristin has done a superb job with this production.
Choreographer Ashleigh Rathjen-Robson has expertly inserted movement, plus heightened physical tropes for certain characters, into the scenes so that the whole production flows; even given the varied level of dance expertise among the cast. Set design works well with rotating blocks that become walls, lockers, doors or closets as needed in the cramped space of the Institute stage. My only criticism is that some scene changes took too long (even with clever musical or vocal overlays) so that the entire show seemed to drag in parts, despite the superb energy of the cast. One other technical issue concerned at least one of the headset mics. Sarre's mic dropped in and out at times and crackled at other moments, which must have been off-putting for the performer. On occasion the sound balance was not entirely successful when full chorus and soloists were singing, or minor characters had lines on or off stage.
I urge you to go and experience the fun with Segue Productions. I also applaud the producers for providing a great opportunity to this young cast with this challenging and entertaining work.
It is well worth choosing to spend an evening with Heathers The Musical.
Lisa Lanzi
Images: Mark Anolak Photography