In The Heights
Music and Lyrics by Lin-Manuel Miranda. Book by Quiara Alegria Hudes. Directed by James Cutler. A StageArt Production. Australian premiere. Chapel off Chapel. February 18 - March 8, 2015
Take a fan with you when you go to Chapel off Chapel, regardless of the weather. In The Heights is so hot it could burn you. It sizzles, it makes you gasp for air, it sets fire to all your misconceptions about little known musicals in small spaces, it burns the floor with fabulous dancing, and its energy is such that there are times you feel you cannot breathe. In short – it is Sensational!
I am ashamed to say this musical slipped past me with me knowing nothing but its title, despite it being nominated for thirteen Tony Awards and winning four, plus a Grammy award and a nomination for a Pulitzer Prize. It's here now, and StageArt, a newish company who have given us really promising productions over the past three years, have made a quantum leap this time to challenge every show in town. It wins hands down!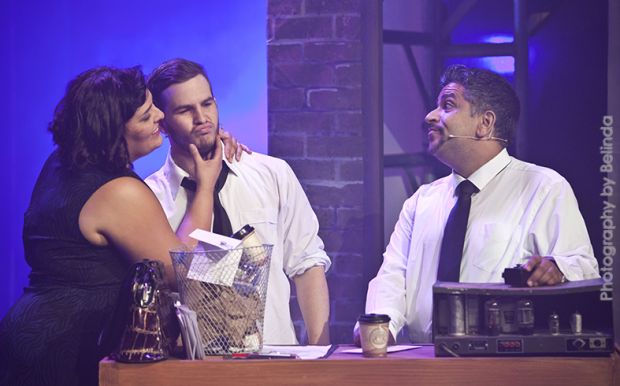 The story is that of Latin Americans living in Washington Heights in NYC over two days July 3rd and 4th, when the power goes out in the heatwave. That's really all you need to know – the book is sharp, funny ("Does he dance?" "Like a drunk Chita Rivera") and poignant. The music is infused with all the flavours of Latin America, and the energy levels in it make it impossible not to dance in your seat. It is brilliantly fused with Rap, and many of the songs are performed in rap style with Latin rhythms behind them. The brilliant Band, under Musical Director Cameron Thomas, never plays a note wrong; the set, by Merinda Backway, is a delight and makes maximum use of the Chapel Space; Kate Sinclair's costumes are perfect; Marcello Lo Ricco's sound design is spot on and Jason Bovaird's lighting is stunning, as always.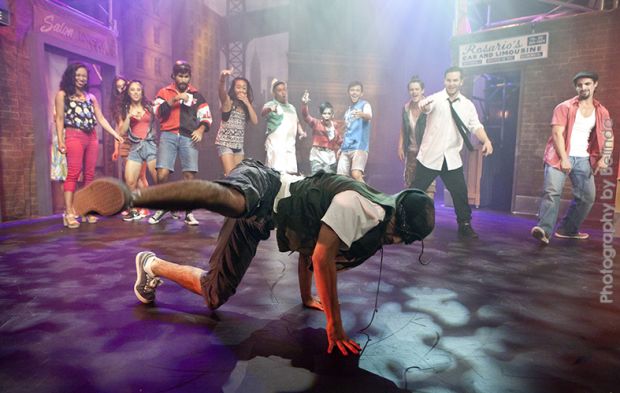 James Cutler is proving himself a meteoric force as a Director. It isn't simply how he blocks or works with the actors, it's his deep understanding of the text and the characters. We saw it in last year's superb production of Parade (The Collective), but he has made giant steps with this production. Yvette Lee's Choreography brings the best of the Broadway production to the far smaller space of this venue with brilliant style. The show could transfer to a 1,000 seater theatre tomorrow and never miss a beat, such is its depth and breadth. The dancing marries Latin - American Salsa and Merengue coupled with Break dancing, popping, crunching….and, in a cast of 21, there is not a single weak link anywhere, and that's astonishing given the ethnic mix the show requires.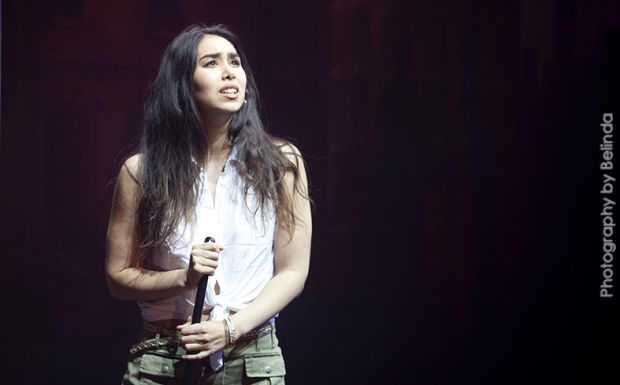 Now to the cast. Stephen Lopez (USNAVI….mistakenly named after the US Navy) is a familiar face to us for his acting, but his rapping style is quite brilliant and his command of the stage is impeccable. He's perfectly cast in this role.
Anna Francesca Armenia (Nina) would have been the perfect leading lady for another (nowhere near as good but with far more hype) musical in town, she's that good. Her voice is astonishing, a fusion of Music Theatre and Jazz, and she's an endearing actress.
James Elmer (Benny) is the quintessential triple threat who might have been stuck in the ensemble of any main stage show but for his breakout performance in this. He has an adorable personality, handles the rap and break-dancing really well, sings up a storm and brings great pathos to the star-crossed lovers storyline.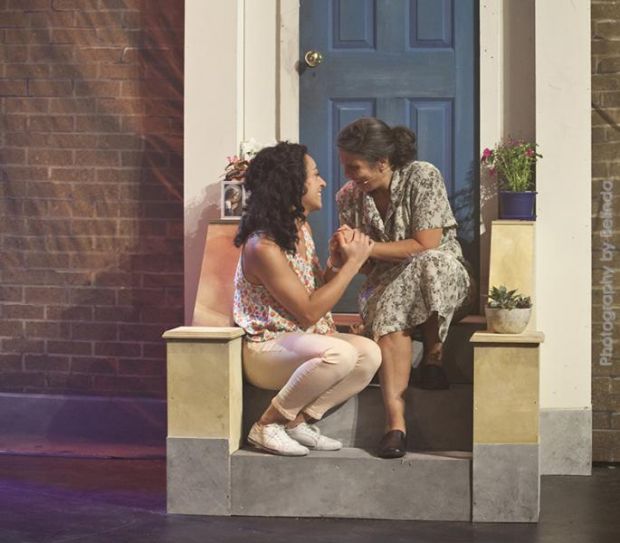 Bianca Baykara (Vanessa) was a standout in last year's Pacific Overtures and she nails this role with the same energy and talent, not to mention her stunning beauty. Andrew Doyle (Sonny – Usnavi's cousin) has great comic timing, oodles of personality and is another triple threat who has been perfectly cast.
Bianca Bruce (Camila) and Clarence Marshall (Kevin) are totally credible as Nina's parents. Both are terrific singers and dancers and Bruce pitches Camila's fiery latin temperament at just the right level. Excellent performances from both.
Laura Marcucci (Daniela) brings attitude and Latin sensuality with bags of swag to the role of the neighbourhood hairdresser. She is mesmerising and sings up a storm.
Peter Sette (Graffiti Pate) and Gareth Jacobs (Piragua Man) are totally convincing in their smaller roles.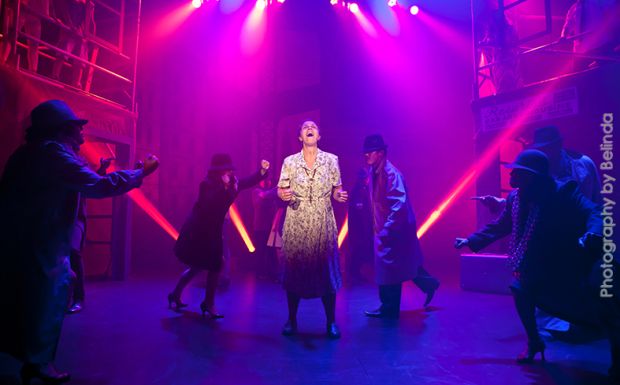 Lastly, what can one say about Francesca Arena as Abuela Claudia that adequately conveys her command of the stage, her warmth and that absolute belter of a voice that knocked the audience back in their seats? She is fabulous in the role.
The ensemble is of the same high standard as the main cast. Everyone achieves excellence and their energy is staggering.
Only weeks ago I named another show as the show of the year. I spoke too soon. It is hard to imagine anything bettering In The Heights and all praise to Chapel off Chapel for its shows so far this year. If I won the lottery this weekend I would BUY a theatre…not for any vanity projects but to make sure everyone saw this show. Of course I would then have to buy one in Sydney too. Sydneysiders deserve too see this production. Mainstream producers won't take chances with shows that they deem to have only a minority demographic. Thank heavens for companies like Stage Art who aren't interested in doing same old/same old. It would be a travesty if all this exemplary work ended after a three week run. Sixty years on, this is West Side Story for this generation. Most of all, it is superb Musical Theatre. Don't miss it.
Coral Drouyn
Images by Belinda Strodder