The Hello Girls
Music and lyrics by Peter Mills, with book by Mills and Cara Reichel. The Therry Dramatic Society. Arts Theatre, Adelaide, June 2 – 12, 2021
The Hello Girls is based on the true history (HERstory) of America's first women soldiers.
During World War One, teams of women were enlisted and served as bilingual telephone operators on the front lines, helping turn the tide of the war only to be denied Veterans' rights upon their return home. Despite nearly two hundred women being sworn into the US Army Signal Corps Unit (thousands actually applied, 450 were trained and 233 served abroad), they were refused any benefits that male soldiers were entitled to as they were said to be merely 'contracted' rather than enlisted. Between 1927 and 1977, twenty Congressional Bills were presented but it was only in 1977 that the long campaign for equal rights was successful and a Bill sworn into law. It is thought that only twenty of the women survived to witness this hard-won battle for equality and recognition.
The Hello Girls was commissioned and premiered by NYC's Prospect Theatre Company (founded by creatives Mills and Reichel) in 2018 to celebrate the centennial of these ground-breaking women members of a unit set up in 1917 on the orders of General Pershing, who wanted skilled telephone operators to ensure effective communication between American Expeditionary Forces in Europe. Formally known as the Signal Corps Female Telephone Operators Unit, they were affectionately and colloquially called 'The Hello Girls'.
The Therry Dramatic Society was founded in September 1943 and has been delighting Adelaide audiences since with a dedicated fan base and a reputation that allows them to attract first-class theatre performers and creatives. The Hello Girls is no exception, and possibly the best community musical production I have seen.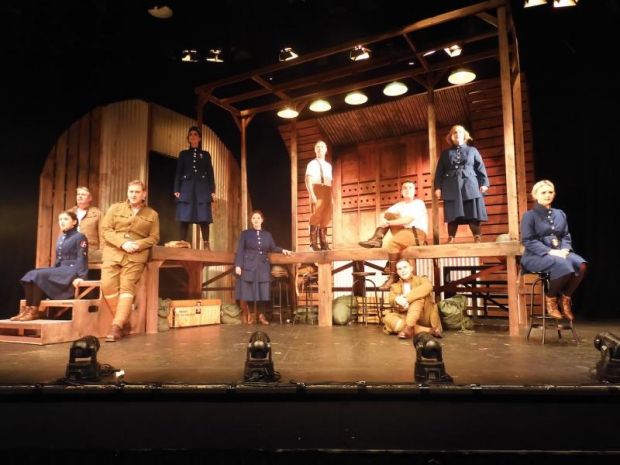 As the audience enters, there is already some subdued interaction with performers on the striking set and appropriate incidental recordings from the era playing. There was a palpable buzz in the auditorium, a nod to the strength and closeness of community theatre culture in this town and their devoted fans.
Upon the first notes of this two act musical that is also blessed with some great dialogue, it was clear that very capable artists were involved in The Hello Girls. Conductor and Musical Director Mark DeLaine has done a huge amount of work to ensure the band and singers were on point and the beautiful harmonies shone in the many songs. Throughout the work, the cast performed songs and complex dialogue with a total commitment to excellence, and very few tonal slip ups. The orchestrations worked beautifully and the live band was a welcome success.
All the characters were important within the story and each performer gave much, whether in moments of subtle humour or during an aura of sadness, both in song and spoken text. The male and female leads, David MacGillivray and Rebecca Raymond as Captain Joseph Riser and Grace Banker, were awe-inspiring in their command of the stage, their acting and flawless singing. Both are totally immersed in their roles and enrich their characters' journeys with truthfulness throughout the narrative.
As Grace's friend Suzanne, the person who persuaded Grace to gamble on the adventure of enlisting, Cassidy Gaiter positively sparkles. Ms Gaiter's vocals are Broadway-worthy, her American accent perfect and her presence a delight. Eloise Quinn-Valentine gives us Louise, the young French-American eager to return and help rid her former home of the German invaders. Ms Quinn-Valentine's tuneful voice soars and her French language and accent is perfect; she also delivers the verve and insouciance due this character. As Idaho farm girl Helen, Michelle Davy portrays a charming naiveté in the first instance, but allows the character to develop strength during the progression of the story. Ms Davy also has a stunning voice, though a little breathy in the higher register now and then. Jenny Scarce performs Bertha, the only married woman in the unit, whose husband is also serving in Europe. Ms Scarce possesses a rich, warm alto sound and good comedic instincts, rounding out the 'unit' of fiercely patriotic women.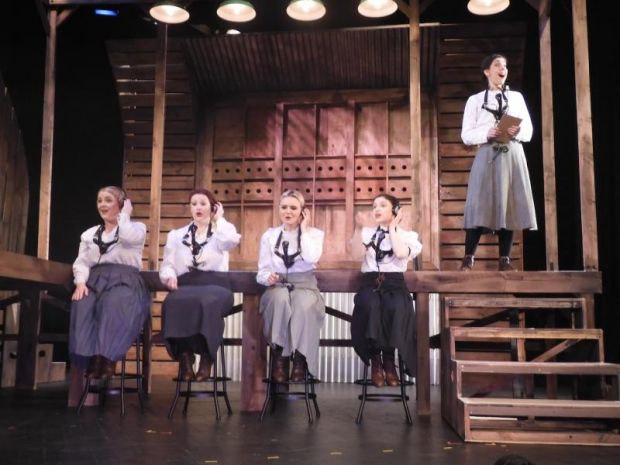 The male performers are all well cast with three of them, Jared Frost, Jared Gerschwitz and Deon Martino-Williams, all multi-tasking to perform the soldier roles and others. All three are extremely talented with excellent vocals and good stage presence. Mr Gerschwitz had a great time with his Private Eugene Matterson character, sparking nicely up against Ms Gaitor's Suzanne. Nick Setchell imbued his portrayal of General Pershing with appropriate gravitas but appeared just a little self-conscious at times.
The direction and simple choreography work well together throughout and I am sure the pacing will tighten up as the season progresses and the performers ease into the momentum. I very much enjoyed the choreographed movement for the impressionistic 'switchboard' scenes, where the actors wore actual antique-looking headsets but represented the placement of the switch jacks with empty hands.
The impressively built and extensive set had to span locations from New York City to Paris, the Headquarters of the war's crucial Chaumont offensive as well as less convivial tent lodgings on the Front. It was a masterful two-level set up which required the cast to move a set of steps and a number of high stools to different areas, giving the cast many exit and entrance options and to illustrate various indoor locations. Huge applause must go to the extensive and talented creative team of set and costume designers, lighting designer and technical crew, set and property squad and everyone else involved with this production.
All in all, The Hello Girls is well worth seeing: a very professional production and an Australian premiere of this contemporary musical with a dream cast.
Lisa Lanzi