Henry 4
Written by William Shakespeare, adapted by John Bell. Bell Shakespeare. Directed by John Bell with Damien Ryan. Arts Centre Melbourne. 14 -30 March, 2013, and touring to Perth 5 - 13 April, the Sydney 19 April - 26 May.
From the moment a stainless steel beer keg is thrown through the upstage Union Jack milk crate wall of Stephen Curtis's fabulous set - which incorporates a full size shipping container and a jukebox in its industrial workspace - and enhanced by Matt Scott's excellent lighting, this re-imagining of Henry IVth Parts 1 and 2 combined is imbued with a punk energy which holds us in thrall for the entire first half.
Briefly, Henry 4 covers the transformation of the heir apparent Prince Hal (Matthew Moore) from uncontrollable delinquent to responsible young king ready to do his duty. The fight for his future, if not his soul, is between his father King Henry (David Whitney) – who must overthrow the Percy family as well as the Scots after killing King Richard 11 – and Falstaff (John Bell), who is only too willing to encourage the young Prince's lascivious streak in the hope of currying favour with the future king.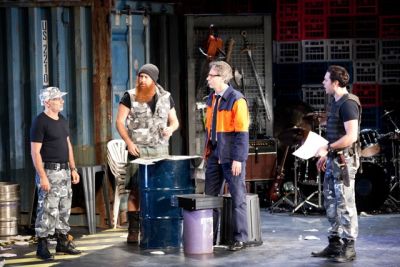 Bell's Falstaff is a magnificent creation who shakes empty his treasure trove of debauchery, ambition, licentiousness, amorality and disregard for authority. Dressed as an aging biker, he primps, he burps, he farts, he laughs, he indulges himself in a way we can envy but would not dare to imitate. Ethically and morally bankrupt, he manipulates the future king and those around him with so much good humour that we cannot help but laugh when we should be appalled. It is a stunning performance by an actor at the peak of his powers. If this Falstaff alone were to be John Bell's legacy to theatre, it is more than enough to have him proclaimed a National Treasure.
David Whitney is superb as Henry 4, balancing his guilt over his crown with the anger filled love he feels for his son. His death is so beautifully and subtly timed that it brought tears to my eyes.
Matthew Moore is undoubtedly a fine young actor, but for me he lacked the vocal timbre to do justice to the rhythms of the text, and some endings to lines were lost or muffled. When he takes the throne, and repents his past, Hal has a line "I know thee not, old man" to Falstaff. It is a rejection that cuts Falstaff loose and ends his days as surely as the executioner's axe, weighted with subtext that is not lost on Falstaff, and yet Mr Moore chooses to throw it away off-handedly without the gravitas it deserves.
The supporting cast is nothing short of spectacular. Tony Llewellyn-Jones brings his customary finesse and stage presence to Westmoreland; Terry Bader is a wonderfully earthy Bardolph; Arky Michaels, that most versatile of actors, makes a feast of multiple roles; Wendy Strehlow's Mistress Quickly is both a screaming harridan and an endearing partner for Falstaff; Jason Klarwein owns the stage as the hot-headed Hotspur; Nathan Lovejoy impresses as Warwick and gives us delightful comic cameos for dessert (including a camp German tourist); and Sean O'Shea is commanding and impressive as Worcester and downright hilarious as Justice Shallow in the throes of dementia.
The remaining cast are excellent throughout.
If the second half "loses the plot" for 20 minutes or so to indulge in pure comic relief, that is more a fault of the Bard's than the choices made with cuts to the text. It would seem that the Elizabethan audiences needed extra time once the play had recommenced to adjust clothing and drink their ale, unlike the opening night patrons at The Arts Centre. Nevertheless the comedy was fine, the soccer references were terrific, and the West Ham colours of special interest to me, and we did indeed need time to come down from the whirlwind of Act One to steel ourselves for the drama of the last twenty minutes. With background music by The Sex Pistols, The Clash, The Cure and the onstage guitar and drums, this very special production pits anarchy against the monarchy in a way that is as fresh as tomorrow. It's a must see for all lovers of fine theatre.
Coral Drouyn
Photographer: Lisa Tomasetti