Here is the Message You Asked For…Don't Tell Anyone Else
Cyber Theatre Project. OzAsia Festival (SA). Space Theatre. November 1st-3rd, 2018
Beijing's leading figure in the fringe theatre scene, Sun Xiaoxing, formed Cyber Theatre Project in 2016. Bringing his latest creation to Adelaide for the OzAsia Festival, he has combined theatre and the world's obsession with the digital age.
This production is a voyeuristic adventure that focuses on a group of millennial girls and their daily addiction to the application We Chat and social media.
As the audience walks into the theatre the open curtain reveals seven girls sleeping. A large digital clock is projected on the back wall, although time seems irrelevant. Disconnected from the real world, the girls live a fantasy life of their creation. Three bunk beds side by side give the illusion of separate living quarters, each decorated with an individual theme.
Unlike a play that has a beginning and an end, this performance has no rigid text to work with. A constant hum of muffled voices and see-through netting that is the back-drop for images of the internet is the one constant throughout the performance. Girls situated in the middle bunks are equipped with a bass guitar, electric drum pad and a sound mixing machine with a microphone attached. The purpose of the musical soundtrack is not clear. The shrieking voices and constant chatter (sometimes in Mandarin) is piercing to the ears and left me uncomfortable.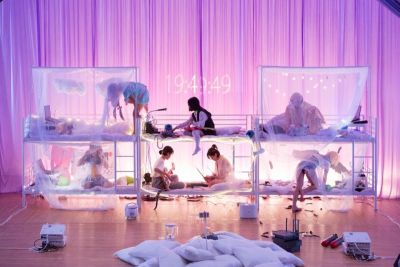 The culture of young people and the devices they use to communicate borders on obsession. Within twenty minutes the message the director is trying to convey is clear, but the play seems stuck in time as we witness the same routine over and over. This does not make for exciting viewing and becomes tedious.
The creators suggested the audience download the most popular social-networking site in China, giving them a chance to communicate with the performers on stage. Not everyone was in possession of a mobile phone, therefore many got lost in translation. No surtitles were provided, which was frustrating.
This show was more social commentary than storytelling. It was repetitive and mundane, leaving this reviewer focused on the clock upstage wondering when it would end.
Kerry Cooper