High Fidelity
Lyrics by Amanda Green, music by Tom Kitt, book by David Lindsay-Abaire, based on the novel by Nick Hornby and the Touchstone Pictures Film. Presented by Hills Musical Company. Stirling Community Theatre, SA. Nov 5-20, 2021
Top Five Reasons to see this show:
Number 1: it's fun. High Fidelity was originally a 1995 novel by English author Nick Hornby. The later Hollywood movie relocated the story to Brooklyn, New York, and the subsequent 2006 Broadway musical kept it stateside – yet even with its American references and accents, it retains an English (in)sensibility of a stubborn man refusing to deal with his feelings. The story is told largely from the perspective of Rob, a convincing Michael Butler, who narrates his life through constant breaking of the fourth wall, explaining his situations through 'top five' lists, blaming everyone but himself. His girlfriend Laura (Kristin Stefanoff) has just left him, so Rob immerses himself in music, through his record store. The shop that never seems to sell anything has two other staff: Barry (Omkar Nagesh), who fancies himself as being in a band one day but can't play an instrument; and Dick (Lindsay Prodea), who thinks he might have had sex once, but he's not sure. Outside the comfort zone of the record store, Rob's friend Liz (impressively acted and sung by Jen McKinnon) reminds him of why his girlfriends leave him.
For lovers of 'alternative' music, there are references and inside jokes to keep you nodding in recognition and chuckling to yourself; the humour strongest through Amanda Green's lyrics – standouts are the conversational 'It's No Problem' and 'Nine Percent Chance', both songs carried by the paradoxical combination of Prodea's vocal power and his character's anxious naivety.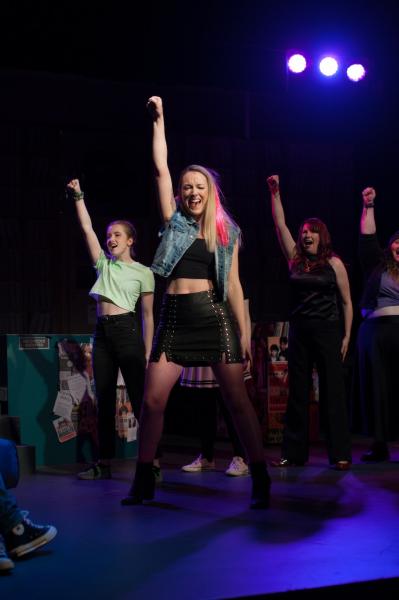 Number 2 reason to see this show: the 'rewind' scene in Act 2. In an otherwise predictable confrontation between protagonist and antagonist, imaginary outcomes are played out to different musical styles, each one freezing, then 'rewinding' back to the start of the conversation. Butler, Nagesh, Prodea, Mancusco and Goodburn are magnificent in this physical comedy – and not just the once!
Number 3: the set design and scene changes. Director Hayley Horton also designed the production, and the main set of the record shop is static and impressive, serving the performers well. There's a huge wall of vinyl records and a door to the street at the rear of the stage, with a door-top bell announcing the entrance and exit of its varied customers. The store has walls filled with posters of classic acts (Bowie to Bob Marley, Floyd to INXS), two movable stands of records are pushed and turned by the cast to suggest a shift in location, and this is bookended stage left and right by two simple apartment interiors. The changes from scene to scene are swift and precise – the one time the record store is shielded is impeccably choreographed, on and off. And director Horton uses the whole depth and breadth of this stage, with just a cut out for the musical director (Ben Stefanoff) to command both orchestra and singers.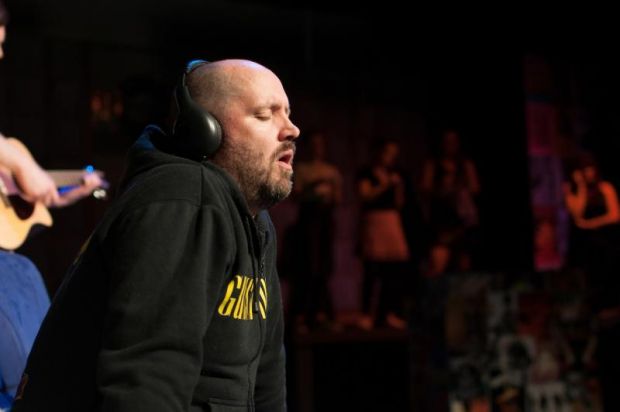 Number 4: the orchestra. They play so strongly, with passion, vigour and just the right amount of swagger for whatever style they're called on to play. They support the singing voices so well from ballad to hip hop – yet for the spoken words, the balance of the sound is in favour of the instruments in the pit.
Number 5: Adam Goodburn. You could do worse than just watch him all night – he's brilliant, hilarious, doesn't break his precisely defined and quirky character for a second; every entrance, exit and set positioning is undertaken by TMPMITW (that's his character's name!) To say he pulls focus is not a criticism of his performance, instead a challenge for his fellow supporting actors to step up to his level.
But here's the problem: whilst the original novel reveals the toxicity and selfishness of the main character through a detailed examination of where his 'top five breakups' are now, the musical covers that in one song. It's a repeating motif in the show, but it's guilty of the same fault from its protagonist: it doesn't want to deal with any ugliness. Act One is emotionally one-dimensional, with a lot more shape and shade in Act Two, when all the characters start facing up to what it is that they want – and more importantly, doing something about it. There are subtexts we care about from Barry finding his place, and more sweetly, Dick learning about relationships with Anna, superbly played by Kodi Jackson.
The material here has some vital messages here about the power of music: how a few bars can place you back in a situation from many years ago; how it can inspire you to great things, but just when it's finding some depth, it instead plays for laughs. Horton ensures her cast have a thoroughly enjoyable time on the Stirling stage, and if you don't dig too deep into the meanings of the monologues and song lyrics, you'll be laughing too.
Mark Wickett