The Hitmen
By Mish Wittrup. Theatre Works and Baker's Dozen Theatre. Theatre Works, St Kilda. March 4 – 14, 2020
The Hitmen is riddled with surprises, shocks and some fun local and popular culture references. It is a great, lively, clever, imaginative play by Mish Wittrup, that keeps everyone on their toes.
A handful of people come to a job interview for the position of Hitman for K O C (Australia's largest agency of contract killers and assassins). The stakes are very high as there is only one position and all rejects will be eliminated.
Cass Bainbridge is Gwen, the CEO of the company she inherited from her father. She loves her job and company. This is evident in her lively bright demeanor and the enthusiasm with which she approaches the potential employees. She is ridiculously and hysterically joyful – so funny.
Gwen's 'back is being watched' by the silently brusque and faithful minder John, who is played skillfully by Tim Lancaster.
Couple - John (Eidann Glover) and John played by Harry Borland really excel in portraying a believable pair of 'bogan' crooks. This couple is pepped up on pills, lust and spiraling games of jealousy. They are driven by nasty niggling issues of power and control that ultimately get the better of them.
Michael Argus plays John, a former employee. He is something of a physical reconstruction. Like a cowboy continually about to draw his guns, he struts around the office.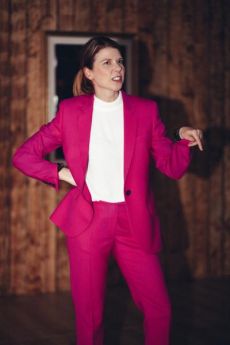 Then there is enthusiastic job hopeful John 'the gamer', played by Raymond Martin. He is the butt of quite a number fabulous of laughs.
The pretty young mum John (Sophia Petridis) pulls on the heartstrings of John the Arts Grad (Will McDonnald) as the rest of the action is put on hold and the music is sentimental.
Writer Wittrup pulls a number of most surprising and entertaining stunts, causing the audience to jump and gasp.
Sound by Zachary Camm is used fairly sparingly, generally, to underscore and enhance atmosphere. Costumes (Louise Parsons) are character appropriate. The set by Thomas Mitton is serviceable. Lighting by Harrie Hogan is strong, solid and appropriately atmospheric.
The Hitmen holds together well, however some characters are played more naturalistically than others and perhaps it could do with some dramaturgical editing. As it currently stands, the direction by Blake Barnard is sympathetic and supportive of the whole hysterical conceit.
Outrageous and hugely entertaining.
Suzanne Sandow
Photographer: Justine McArthur.
Credits:
Director - Blake Barnard
Assistant Director - Rhys James
Stage Manager - Brooke Simonds
Set Designer – Thomas Mitton
Sound Designer – Zachary Camm
Lighting Designer – Harrie Hogan
Costume Designer – Louise Parsons
Stage Combat – Joe Lai
Cast:
Michael Argus
Cass Bainbridge
Harry Borland
Eidann Glover
Tim Lancaster
Raymond Martin
Will McDonnald