HMS Pinafore
By Gilbert and Sullivan. Gilbert and Sullivan Opera Sydney. Smith Auditorium Lyric Theatre. September 26 - October 4, 2014.
HMS Pinafore is amongst my G & S personal favourites. It's a lean, pacy satirical confection set aboard a British naval ship, in which the Captain's daughter falls in love with a sailor, rejecting the advances of the First Lord of the Admiralty, if you haven't caught it in the last 135 or so years. If its class system satire has worn a slightly thin, it still has a rom-com sort of charm about it thanks to a romance which is less fantastical than most in G & S, while its clean and simple political satire is pretty universal.
Director Elizabeth Lowerencev has created a lively, fairly conventional community theatre production, faithful to the original apart from the usual smattering of topical updates.
It's moved along at a lively pace from the outset, established before the curtain rises by the bright tempi set for the overture by musical director Rod Mounjed. His full orchestra does ample justice to the familiar orchestrations, while the sound balance benefitted from the proper orchestra pit in which the players were located at Shore School's Smith Auditorium Lyric Theatre.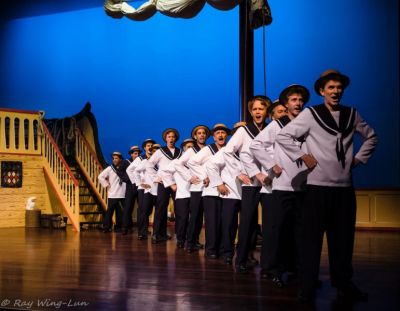 Production, performers, orchestra and audience alike benefit from the company's splendid new home; a well kept secret, this beautiful theatre with its generous orchestra pit, cosy auditorium and spacious stage, is just a stone's throw from North Sydney Railway Station and the harbour.
No longer constrained by the tiny stage of Chatswood's Zenith Theatre, designer Malcolm Bailey and artist Emily James use the space available to create a spacious two level ship's deck, which makes a splendid impression as the curtain rises. Visually it's complemented by Sandy Tutt's naval uniforms and period dresses for the ladies.
The new stage also provides a larger ensemble than we're accustomed to with this company, more space for a bit of welcome exuberance.
There's so much to enjoy about the principal performances.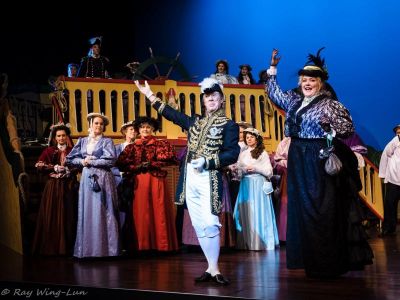 Dean Sinclair is a fruity, foppish Sir Joseph Porter, like many upper class Brits we come across on big and small screens. He's nimble of foot, and of tongue, delivering the patter of the role with precision. He's nicely paired with Ella Arundel's statuesque, assertive Cousin Hebe,
Brendan Iddes nails the Naval Officer's bearing perfectly as Captain Corcoran, and delivers the role with a rich, rewarding baritone.
As the lovers, Sarah Arnold gives us a beautifully sung Josephine and balances the conflicted haughty and romantic sides of the role nicely. Michael Handy has an attractive tenor voice, and with youth on his side is convincing in the romantic lead, though I would like to see him hone and tighten his stagecraft.
Given the topsy-turvydom of ages central to the plot, it's no disappointment to see a younger, slighter, less booming Little Buttercup than usual. Anne-Louise Finlayson brings a very different charm and coquettishness to the role.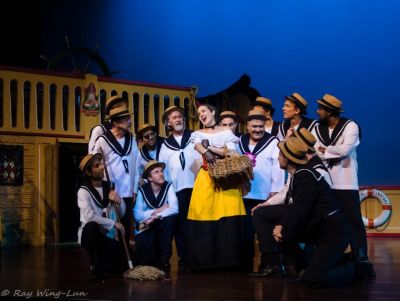 Anthony Mason's Boatswain has a quiet authority, while Gordon Costello's Dick Deadeye lands the comedy and melodrama of the part without going too over the top.
Just as a reminder that yI was indeed seeing an amateur show, one ensemble member was slightly out of synch throughout the opening night, and perhaps needed to feature centre stage less frequently.
All in all, this is a lively, pleasant Pinafore, attractively sung, and staged along traditional lines, is a very pleasant night's entertainment.
Neil Litchfield
Photographer: Ray Wing-Lun