HMS Pinafore and Box & Cox
By Gilbert and Sullivan, and F.C. Burnand and Arthur Sullivan. Gilbert and Sullivan Opera Victoria. Darebin Arts Centre. October 4 – 6, 2019
Daniel Sinfield's production of HMS Pinafore and Cox & Box makes for an evening of splendid fun. A talented cast and chorus manage to find the often-elusive tone in Gilbert & Sullivan of a serious dedication to inspired silliness.
The evening opens with the short Sullivan-composed farce Cox & Box. I do question the addition of this piece, which is an earlier Sullivan work, based on the flimsy premise of long-lost brothers reunited via a string of improbable coincidences. James Emerson (Cox), Paul Tooby (Box) and Phil Elphinstone (Sgt Bouncer) do what they can with the mediocre dramatic material, and there was an excellent sense of ensemble, with some very fine musical and comedic moments, but it was ultimately unsatisfying. This probably is a piece best left for Sullivan completists to enjoy.
It was a delight to turn to HMS Pinafore. A stark contrast to Cox and Box, this more mature work shows Sullivan's talent for gorgeous melody and impeccable ensembles at its best, infused with Gilbert's witty and dramatically-sound libretto.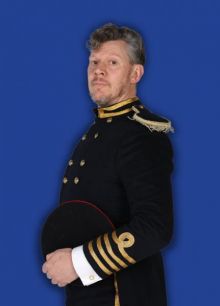 Director Daniel Sinfield has trusted his cast to realise his swiftly-flowing and joke-laden vision. Along with "never work with children and animals", the next dramatic no-no must be "never have so many props things could go wrong every other instant". Sinfield takes that risk, and his cast come through for him splendidly, managing every tiny transition with aplomb. The show starts with a "bang" involving a cannon, two balloons and three po-faced sailors, and the tone is set. A stark, white set is made into various parts of the HMS Pinafore - mostly by the power of suggestion - a steering wheel tells us we are on deck; a set of bollards takes us dockside; and various characters get to languish dramatically in a mobile prow of the ship. There are many giggle-inducing small touches like that, but I won't spoil them for you...although in a nod to tradition, during the "He is an Englishman" chorus, the cast could not help but make a visual comment on the current situation in the UK.
The casting is appropriately inspired: Nick Xiao as Ralph Rackstraw is serious, heroic, and crisply verbose, his youthful, bright leggerio tenor a perfect match for Rackstraw's demanding arias and ensembles. He and his Josephine (Ella Broome) have palpable chemistry. Broome's performance was quite wonderful. Josephine can be played as rather insipid and proud, but Broome infuses her heroine with a steely determination and distinct charm, and the rich quality of her voice grounded her performance and gave her a solid platform for Josephine's thrilling top notes.
Ralph's messmates provided excellent support. Ben Klein was a strong Dick Deadeye, relishing his role as a "three-cornered" villain, easily anchoring the various ensemble pieces. Sinfield chose a small ensemble for both the male and female choruses, and this allowed individuals to emerge, including James Emerson pulling double comedic duty as the "Carpenter's mate", and trying his level best to steal every scene from the background (and succeeding more often than not, which is all of a piece with G&S tradition). James Douglas was as solid a Boatswain who ever walked on Pinafore's deck, his excellent singing lending an easy gravitas to the role. When Emerson and Douglas sang "A British Tar" with Nick Xiao, it was easily one of the best performances of that trio I have heard. Julia Allsop was quite delightful as Cousin Hebe too, making the most of a mostly-thankless role, creating bright energy whenever she was on stage.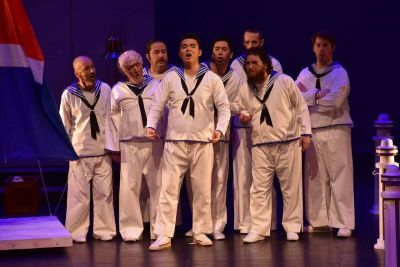 Paul Tooby was an excellent Captain Corcoran, resplendent in his uniform, and diffidently resolute in his desire to do the right thing (rank and station permitting). Tooby's Corcoran lit up the most when longing for, or being with his Buttercup (Nadia Migliardi). Migliardi made smart performance choices, making Buttercup wise and worldly, but playfully dramatic in her yearning for the Captain; and her singing was crystal-clear.
Phil Elphinstone was a highlight as Sir Joseph Porter, his commanding presence and unhurried acting making the most of every opportunity, including his entrance as he appeared posed as a rather splendid figurehead in the prow of a tiny dinghy, clad in his Knight's regalia and draped with a life preserver while performing "When I was a Lad". The "Never mind the why and wherefore" trio was suitably elevated by his presence.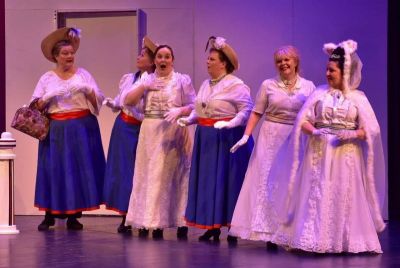 Musical director Joshua Geddes marshalled the musical forces under his baton with a light touch, and although there were occasional ensemble issues, the orchestra provided solid support to the singers. The costumes were in a simple, striking and effective palette of red, white and blue, and Lauren Lee Innis-Youren's choreography had the stage busy and interesting, but never cluttered or clumsy, and the chorus appeared to relish assembling, romping around in, and then deconstructing their scenes.
Much like the alchemical marriage that makes Gilbert & Sullivan such an enduring music phenomenon, taking a 140-year-old operetta and marrying it to a respectful but refreshing directorial take like Daniel Sinfield's has created a satisfying and thoroughly enjoyable production.
Alex Armstrong