Hold the Pickle
Written and performed by Rachel Berger. The Arts Centre, Fairfax Studio September 20 – 24, 2011.
It is impossible to sit through Rachel Berger's wonderful re-telling of her parents' story without feeling that you are a guest in their home, and especially their old deli in Acland St, St Kilda. Situated in between the Monarch Cake Shop and Scheherazade cafe, Berger's Delicatessen was a magnet for Europeans all over Melbourne. Thanks to Rachel Berger's warm and vivid performance, you can see Mrs Berger waiting at the back of the deli for her next customer to walk in, the formal way she would greet them and make each one feel important. You can almost smell and taste the frankfurters, potato salads, and, above all, the sandwiches that Mrs Berger was famous for, or at least you wish you could.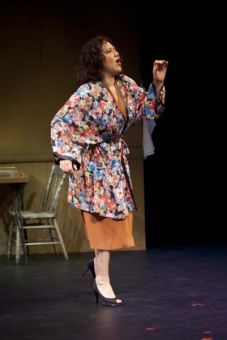 Berger plays the roles of her mother, her father and herself at various stages of her childhood and youth. It's a flawless performance, as Berger slips into her parents' shoes, accents and perspectives with the ease of someone who has watched them, and sought to understand them, over a lifetime. Berger begins by descending on to the Fairfax Studio stage in the guise of her mother, ready to recount in heart-stopping detail how she and her husband fled Poland during the Nazi occupation. The young couple knew the day would come when they had to run, and hide. In one of the show's strongest scenes, Berger takes the audience deep inside the basement where her parents' lives were held together by a gossamer thread. It's difficult to comprehend how this young man and woman were able to endure a constant threat of starvation, and worse, for so long. Berger points out that her father could have escaped Poland fairly easily without his wife, but made a decision to entwine her life with his. It's this incredible love story that makes Hold the Pickle shine.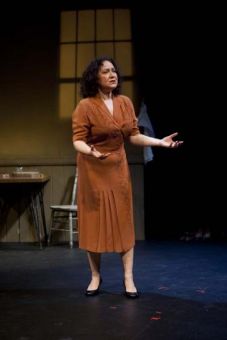 While it's an affectionate portrait of her family, Berger is also interested in how her parents' experiences helped or hindered her upbringing. One of the most brilliant scenes involves a childhood memory where Berger is confronted by her mum, who looms over her like a 'building in an apron'. The lesson that ensues is a fierce one, but perhaps understandable when you consider what her parents knew about life.
Berger received a standing ovation on opening night. This is a show that will leave audiences glowing. Highly enjoyable.
Sara Bannister
To keep up with the latest news and reviews at Stage Whispers, click here to like us on Facebook, or follow us on Twitter.