Holding the Man
By Tommy Murphy, from Tim Conigrave's memoir. State Theatre Company of South Australia. Dunstan Playhouse. 21 Oct to 13 Nov, 2011
Tommy Murphy's Holding the Man adaptation has all the elements of great theatre: a contemporary issue, a powerful message and an ensemble.
In 1995, shortly after he died, Timothy Conigrave's memoir was published, telling of his lifelong love with high school football captain, John Caleo.
Conigrave wrote like a playwright: lots of dialogue making it easy to read and the story itself was powerful. Those elements combined to make it a bestseller and a classic Australian love story – people dubbed it gay Mills & Boon.
Murphy's adaptation reduced the countless players to a core cast, with the ensemble bringing to life many others. It's an already beautiful story made better.
Holding the Manhas elements from my previous top two theatre shows. It has the serious message of The Laramie Project combined with the sheer horror of Paulo Castro's Underground, as Tim (Luke Clayson) and John (Nic English) succumb to AIDS before your eyes.
Those two give gut-wrenching and tear-jerking performances.
The ensemble is gifted, with each actor having the chance to stand out with at least one unforgettable character. Nick Pelomis, however, churns out the memorables like he's on speed. He constantly provides needed laughter.
While it's definitely a bring-your-tissues-and-be-prepared-to-cry-in-public play, it's unforgettable because every element is flawless.
Daniel G Taylor
For the final production of the year, State Theatre has pulled out all the stops and delivered what is arguably their best production in the 2011 season.
Holding the Manis a play adaption of Timothy Conigrave's best-selling memoir of the same title, which was published only a few months after he died. The adaption by playwright Tommy Murphy is very sympathetic with an explorative narrative that isn't loaded with excessive exposition. The writing is affectionate and comedic and casually lightens the mood of what is otherwise quite serious subject matter. The story is relatively predictable, but far more enjoyable if you get to discover it for yourself, so spoilers will be avoided.
Director Rosalba Clemente has chosen to stage the production with 'utmost simplicity', as is stated in the program. The design, by Morag Cook, is multifunctional and segregates the space practically. It is both definitive and non-obtrusive, which is a remarkable feat given that so many locations are represented throughout the production with minimal changes to the set.
All of the players, excluding the two lead males, play multiple roles – and often change character mid scene, with only a slight alteration to their inflection or costume. Despite the chopping and changing, all of the cast are outstanding; a dream ensemble.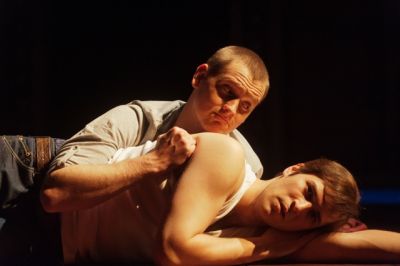 The most exceptional performance comes from Geoff Revell who primarily plays the role of Dick, a repugnant, narrow-minded and fiercely conservative father to John. Revell has conquered all of the light and shade in his characterisation; when you aren't feeling sorry for Dick, you just want to climb on stage and punch him in the face.
Catherine Fitzgerald also plays many characters, has great comic timing and performs economically and intelligently. Both Fitzgerald and Revell have given exceptional performances in this production and create a real sense of the impact homosexuality, rebellious love and terminal illness can have on loved ones and family.
In the lead role of Tim, Luke Clayson is outstanding. Acting as both the central character in the production and narrator, Clayson manages the transitions nicely. As his partner John, Nic English is also excellent. English is beautifully naïve in his early characterisation which grows into a strong willed and defiant adult.
Ellen Steele and Nick Pelomis round out the exceptional ensemble. Also playing multiple roles, both deliver moments of comic lightness and contrastingly deep emotional characterisations.
This play is a superb literary work, which draws its audience emotionally from pillar to post. It combines contemporary themes with historical ideologies and does so all with good humour. You will laugh and you will cry, but whatever you do, don't miss this show.
Paul Rodda
Images: Tim Conigrave and Nic English. Photographer: Matt Nettheim.
To keep up with the latest news and reviews at Stage Whispers, click here to like us on Facebook, or follow us on Twitter.