Holding the Man
By Tommy Murphy based on the book by Timothy Conigrave. La Boite @ the Roundhouse Theatre, Brisbane. Director: David Bertold. Design: Brian Thomson. 16 Feb – 16 Mar 2013
Despite its critical success first-time around, and productions in San Francisco and London, I found La Boite's new production of Tommy Murphy's Holding the Man decidedly undercooked as a piece of drama. Today, with HIV under control with a cocktail of drugs, it's easy to forget that back in the eighties at the height of the epidemic, death was around every corner. The play addresses these issues with this gay love story, but too often the emotion is a ripple when it ought to be a roar.
Perhaps the distance of time has also blunted the message of a story we have seen so often. Two boys, Tim, an arts student, and John a football jock, meet at high-school and fall in love. Tim tires of monogamy and pursues a hedonistic lifestyle eventually returning to his first love John. Both discover they are HIV positive and the question is who gave it to whom? Tim is self-centred and selfish, while John is constant and forgiving.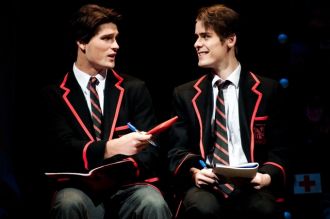 A frank and funny first act gives way to a sombre and grave second where both partners die. Based on Tim Conigrave's best-selling memoir, the story is seen totally through the eyes of Conigrave and that's the problem. It's a one-sided look at the relationship. Nowhere do we see any hint of the homophobia John might have experienced as a gay sportsman, nor do we experience his family situation where his strict father threatens police involvement if John doesn't end the relationship. These points and others are simply paid lip-service in a fast, frenetic and glossy production by David Bertold.
Alec Snow and Jerome Meyer made a good fist of the Tim and John roles, but lacked the acting range demanded of the characters. The other four actors, Helen Howard, Lauren Jackson, Jai Higgs and Eugene Gilfedder, with an assortment of wigs and hats, played a smorgasbord of characters to good effect. Sometimes with only two lines to establish a character they went for the easy option of caricature.
Brian Thompson's set was glitzy, with David Waters lighting effectively establishing the era of disco and dance clubs.
David Bertold has nurtured the play since its inception at Griffin Theatre, Sydney in 2005. With a highly emotive subject such as AIDS one would have expected more emotion. This play still feels like it's in development.
Peter Pinne
Images: (top) Alec Snow & (lower) Jerome Meyer and Alec Snow. Photographer: Al Caeiro