Home Grown
Various Musical Theatre Composers and artists. Chapel off Chapel. 26th Oct and then Dec 7th, 2014
Six months ago Home Grown was started in the back room of a pub. It was designed to give a platform to new Musical Theatre composers to showcase their work. Since then it has garnered audiences and volunteer performances from some of our finest musical performers.
The entire concept transferred to the foyer of Chapel of Chapel and then, with growing numbers, last night into the Loft Theatre. Cabaret performer Michael Dalton, without his alter ego Dolly Diamond, was a consummate MC, despite most of the artists being new to him. The theme for the evening was, of course, Halloween. The whole evening is super casual, but the performances are totally professional.
The depth of the composing talent in Australia is quite staggering and last night we heard songs from 7 or 8 new musicals, in various stages of development, played by their composers while they told us a little of the plot and the stages of development.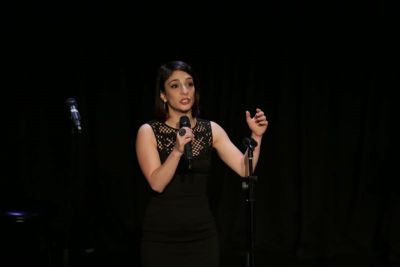 Highlight for me was Jamie Burgess' (composer of Just Desserts) haunting ballad, 'Wishing On The Moon', from his musical in development The Invincible Moon, which has an astonishing premise. Sung by Jennifer Reed, it's a leading lady's dream song. The Uber-talented Shannon Whitelock – composer of Oprahfication and a new musical ONE – wrote a special number to suit the theme called 'Possession', and we heard about an exciting new project – a musical based on Rodgers and Hart. Peter Rutherford, one half of Rutherford and Millar, composers of The Hatpin (perhaps the most produced of contemporary Australian Musicals) accompanied Bronte Florian in a stunning rendition of the Courtroom Scene. Anthony Costanzo, with two terrific musicals – Crossroads and Life's a Circus – already to his name – wrote a funny and poignant song specially for the theme, called 'Halloween in Australia'….sheer delight. Rob Tripolino (without his writing partner Hugo Chiarella) accompanied Angelique Cassimatis on two of his numbers from Guilty Pleasures and Belinda Jenkin and Will Harrigan offered the perfect "Haunted" and then a fabulous number on Paranoia with the addition of Alexia Brinsley and Michelle Brasier.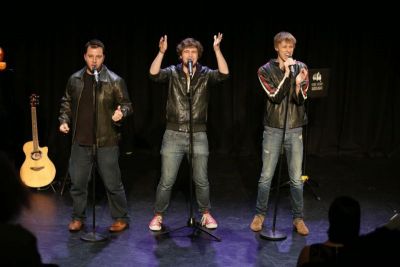 Hedger and Ncholson, who devised the concept of Home Grown, gave us 'Back to Salem', where they and Hondo (Andrew Hondromatidis) played 3 witches in a tribute to Hocus Pocus and really sold their own number. That was followed with a first taste of their new musical Fables, with the Pied Piper's song….just stunning. There were others too, composers and performers, who impressed with every number.
What was apparent from the very start was that we have musical talent here to rival anywhere in the world…all our composers are lacking is the Big Break. This was not just a thoroughly enjoyable evening's entertainment – but a great insight into the future of Musical Theatre. Because the audience is growing exponentially, the next Home Grown will be in The Chapel (the biggest performing space) on Dec 7th and it's expected to be a sell out. It will be a chance to send up some prayers that the whole initiative will continue to grow. Go and see these great young talents while you can…it's only a matter of time before you have to pay $100 a ticket for the pleasure of their talents.
Coral Drouyn
PS….guess who won the door prize for her witches costume…and YES…it was intentional.
mages (from top): Belinda Jenkin, Will Hannigan and Alexia Brinsley; Angelique Cassimatis; Andrew Hondromatidis, Nick Hedger and Ben Nicholson; & Hedger and Nicholson. Photographer: Diep Nguyen.