Hotelling
A Bleached Arts Production. Peppers Soul, Surfers Paradise. 1st-5th November, 2017. 2 shows nightly
There is an active movement in South East Queensland to produce entertainment more up-market and away from the obvious. Bleached Arts successfully accomplished this with its first Bleach Festival early this year, and we see it in productions like Cockfight by The Farm, and the stunning Blanc de Blanc (reviewed last month).
Whether you call Hotelling entertainment or Art (Art, as we know, is subjective and makes it far easier to excuse shortcomings), it is in fact an elaborate variation on the Theatre Restaurants of yore, aimed at a more cultured (and wealthy) audience.
The premise is interesting, 22 "guests" are invited to Richard Hightower's 118th birthday party in the 64th floor penthouse of Peppers Soul Hotel.
The evening starts well and shows great promise. We are ushered to Mr Hightower's "Secret Garden" (on a much lower floor.) There, we are given Pimms to drink, tiny finger foods to eat and offered massages (aah, bliss) or having our shoes shined to perfection before indulging ourselves with a game of Boules or Croquet. It's quite delightful and promises something stunningly top end to come.
When we reach the penthouse we take off our shoes and don slippers - and a new identity - before being seated at a long dining table where a parchment gives us background on our characters and their relationship to the Birthday Boy. This is a project still very much in the development stage, so perhaps it's not surprising that there are glaring mistakes in the research (Mike Nesmith was NOT the drummer in The Monkees - that was Mickey Dolenz – and, incidentally, Mike Nesmith ISN'T dead; Florence Nightingale was 90 and bedridden when she supposedly wrote the 18 year old Hightower a love letter, though they could never have met; Peter Lawford's part in The Rat Pack didn't start until the 1960s and he was best known in that time for being President JFK's Brother in Law). These things, in and of themselves, are minor glitches and easily remedied. A bigger concern is that once we're given those identities, they don't impact in any way on the Birthday Boy, nor is there any connection to each other, except for the fact that some of us may have provided a fountain of youth by donating body parts to our host. Because of that, any possibility of a narrative throughline is destroyed before it's started, and that's a shame because there is so much potential to give motive and momentum to why we characters have been invited. Does Richard seek revenge against us? Does he hold secret affection for us? There's no emotional connection and so it's difficult to stay involved.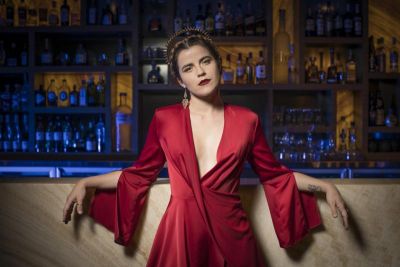 Nevertheless, we have a lovely time eating an entrée sized meal and drinking half a glass each of very average wine with no refills (I KNOW Peppers can do better than that) and our host (played with great style and professionalism by Todd MacDonald, who pulls out all the stops to beguile us) is enormously entertaining and makes a strong connection with us on an emotional level. That is followed by a drop in energy and synergy as we are split into groups and encounter, in various vignettes, moments from Richard's life. Some, meant to be edgy, are actually turnoffs - several people after the performance complained about the 80s sex scene with strap on Dildos and coke snorting. I wasn't offended - I was just looking for the rationale - how did this connect with all of us? From there we continued to "disconnect" through a series of scenes whose purpose was unclear to most of us.
Singer Ella Fence is very attractive, but her pitchiness was a concern and it's always wise to learn the actual melody of classic Harold Arlen song "Over the Rainbow" before deciding to emulate Israel Kamakawiwoʻole, mangled lyrics and all.
The best moments of the night came in a poignant scene between Hightower and the ghost of his dead sister, stunningly played by Veronica Neave. It was genuinely moving. She and MacDonald together created an aura of genuine truth which is mostly lacking in the show. I don't know who wrote it, but it was head and shoulders above the rest of the script
And here's the rub - the script is everything, even in a show such as this. When you read that the script was developed mainly by the artists themselves, you realise where the problem lies. It lies in the lack of one cohesive vision, one clearly lit path which everyone must embrace and follow. It's the reason so much experimental theatre fails - not just through too many Indians, but no Chief at all.
The night ended with a whimper after we sang Happy Birthday. (If I had paid the $150 ticket price I would have expected a glass of champagne for a toast). But wait, there's more. We're ushered downstairs for a glass of Mulled wine and a chocolate and a mystical performance by the charismatic Sandro Colarelli, who cleansed our souls of Hightower's presence - obtuse but energising.
A strong hand and vision could make this into a stunning piece of immersive theatre on an international level, instead of the partially successful jigsaw puzzle it currently is, though full marks must be given to all concerned for trying to push the envelope. However, striving for excellence (rather than edginess) is a far more rewarding, though equally difficult path to follow.
Coral Drouyn
Image: Stephanie Pickett. Photographer: Claudio Kirac.