A House on an Island in The Aegean
By Luke Icarus Simon. La Mama Courthouse (Vic). Nov 16 – 21, 2021
La Mama has opened its doors again - there is anticipation and eagerness from audiences and a hunger from artists to shake the lockdown out of their systems and get back into rehearsal and live performance.
One such Sydney-based performer/writer/director Luke Icarus Simon has been making work for over forty years, his new play A House on an Island in The Aegean tackles the issues that arise when one is Greek, Greek -Cypriot, gay, sexually abused and closeted.
We first see Achilles (Luke Icarus Simon) paying a visit to his psychiatrist in Athens 2015. He feels his life is unfulfilled for being unable to maintain a long -term relationship, and at the age of 46 angry at having survived the AIDS epidemic. He begins the long unwinding story of the last five years of his life, where he finds himself yet again in a gay nightclub - stopping by for only one drink and getting picked up by the perfect man, Apollo (Kostas Moutsoulas), for all the wrong reasons. Apollo is a closeted handsome Greek-Australian who is financially comfortable and unhappily married to Despina.
The romantic Achilles, not comfortable with his "fucking buddy" set up, sways Apollo into a tentative relationship. Apollo is at first reluctant but gives in and moves in with Achilles, under the guise of sharing with a friend. Apollo has unofficially left his wife, who falls pregnant and after his violent outburst, Achilles realises Apollo continued living a double life. Feeling emotionally damaged and physically bruised, Achilles finally ends the relationship.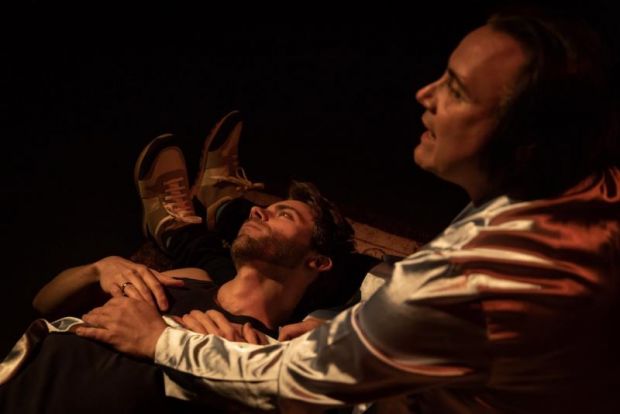 Simon has provided an innovative narrative structure that spans across a few years. He meshes the story with poignant Greek philosophical and cultural references providing a colourful palette of dialogue. Achilles /Simon is quite masterful at drawing distinctions between Greeks and Greek Cypriots. He plays on his native dialect to woo Apollo, who is a Greek-Australian and is intrinsically more Greek than Achilles, or maybe just your average conservative macho bloke who loves gay sex despite being married. Moutsoulas is convincing as the deceitful Apollo and his moment of heartfelt glory is when he takes to the floor drunk and performs a traditional male solo Greek dance.
Simon is a self-reflective performer and Achilles is his alter ego, who battled with sexual abuse in the refugee camps in Cyprus after the Civil War in 1974. He mentions the beating he received from his father - the torment and abuse from family who failed to understand him.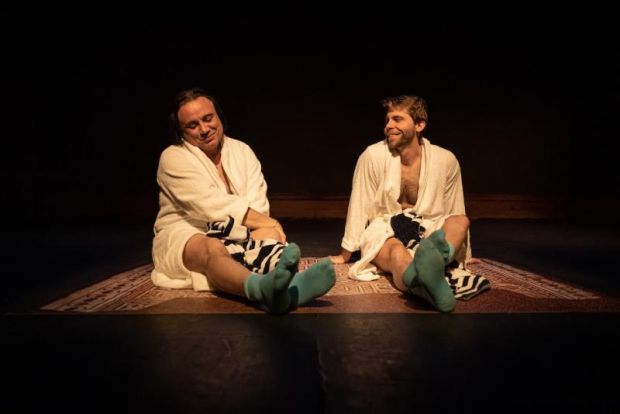 A House on an Island in The Aegean is a thought-provoking and crafted show, and Simon is a defiant and captivating performer. The play is intrinsically about a man looking for a meaningful relationship. A trimming back of excess dialogue would make it a more succinct production. The minimal production values rely on lighting (Efterpi Soropos) that generates a dark, sombre atmosphere. Sound editing (Millie Levakis-Lucas) provides an emotionally stirring array of traditional Greek love songs.
Flora Georgiou
Photographer: Darren Gill