How to Drown a Fish
By Sophie Minissale. University Dramatic Society. Fringe World. Directed by Megan Rundle. The Briefing Room, Girls School, East Perth, WA. Jan 30- Feb 7, 2021
Set poolside at a community swim centre, How to Drown a Fish is a gorgeous little late-night rom-com produced by University Dramatic Society for Fringe World. After a successful opening night, Perth's lockdown has paused performances of this feel-good show, but hopefully they will be able to resume for the last 3 shows of their run.
Abby has had a crush on Jamie for months, but fraternisation between the swim teachers and lifeguards at the pool are forbidden - which makes approaching her difficult. A lovely little lesbian love story where the impediment to the relationship is not the same-sex aspect of the romance. Great characters and some cute little quirks keep us engaged with this sweet and heart-warming tale.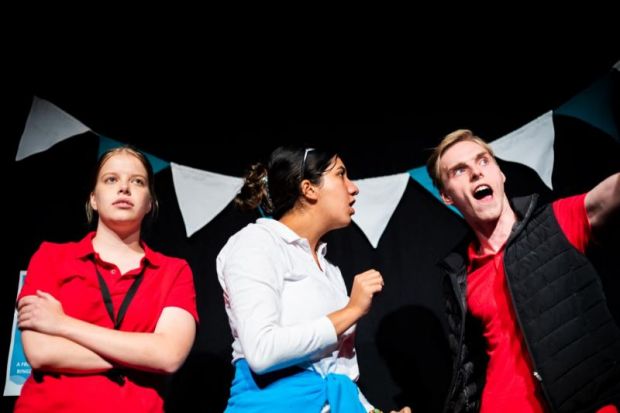 Katherine Hooker is delightful as dissatisfied swim-teacher Abby - a lovely layered performance, with Julia Schwab great as her love interest Jamie. Excellent ensemble work from a strong cast - Mackenzie Brown as laid-back Jack and an irate father, Cam Williamson as loveable teacher Rich, Esha Jessy giving wonderful facial expression to head of the swim-school Pat, and Jeremy Hansen completing the cast as strict head life guard Toni.
A fun fresh little show where you can almost smell the chlorine, How to Drown a Fish deserves to be seen by a bigger audience. Hopefully they can both complete their run post-lockdown and secure some extra performances at some point.
Kimberley Shaw
Read more Fringe World Reviews